'American Idol' Recap: A Few Standouts On A Mediocre Performance Night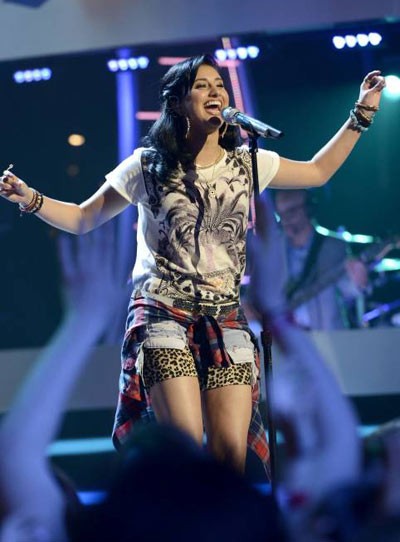 For my thirtieth birthday, the only present I wanted was a non-sucky night of 'Idol'. Did my b-day wishes come true? Read on to find out...
Jena Irene sang "Suddenly I See" by KT Tunstall
Keith Said: I'm not mad about that song choice for you, but I like the way you're starting to move around.
J-Lo Said: You're right on the precipice of starting to blossom onstage.
Harry Said: I was waiting for you to bust out.
The Verdict:
There's a lot of weird stuff going on in this performance. The weird paper cutout neighborhood behind, the calypso snapping while singing, tying a shirt around her waist? It's all just a big ball of weird.
So there was weird, then there was bad - that would have been Jena's vocals on this song. Her trademark muddy fake-soul-jazz voice is completely out of its element with this song and she has trouble finding her way through it.
It's a total mess. She's a confused teenager up there and it shows from her song choice to the odd bouncing around on the stage.
GRADE: D
Alex Preston sang "I Don't Want to Be" by Gavin DeGraw
Keith Said: It was like you weren't quite sure how to be within the arrangement.
J-Lo Said: It wasn't your best vocal for me, but you look official.
Harry Said: It sounded like you were a little bit overpowered.
The Verdict:
Alex is definitely going for it. The suit, the hair, the shoes - he's trying to be a rock star with his white guitar.
This is his weakest vocal performance so far. And by far. This kid is usually so in tune with the melody and story of the song and makes it his own. Tonight, it's a young folk-rock singer trying to sing a Gavin DeGraw record. Really not on the normal Alex Preston level.
His guitar playing is spot-on though.
GRADE: B-
Pink Hair (Jessica Meuse) sang "White Flag" by Dido
Keith Said: If you believe in it, everybody will cheer.
J-Lo Said: You don't seem comfortable.
Harry Said: It felt a little bit blasse. You're usually a laser beam, but you were just so off.
The Verdict:
Pink hair continues to break away from pure country. It's a poor strategic decision and it's affecting her musically as well.
She oscillates between sharp and flat. She's far too nasal. She's simply out-of-tune the entire time to the point that it became irritating to hear.
This was as bad a vocal as you'll hear past the blooper auditions - save yourself, Pink Hair!
GRADE: F
Dexter Roberts sang "Lucky Man" by Montgomery Gentry
Keith Said: That was the perfect song.
J-Lo Said: You remind me of Scotty McCreery.
Harry Said: Unquestionably the best performance of the night.
The Verdict:
It's country-lite for Dexter again this week. To make a cross-show comparison - he's just not Tate Stevens from X-Factor. Tate was a pro, and this is a guy pretending to be a pro.
It's pure frat-boy country. Simple as that. This is a guy who'd do fine playing at a bar in a southern college town where everybody wears searsucker and listens to this type of music to feel some level of soulful while they drink their flat beer, but beyond that, he's an also-ran.
Too bad he won't be on this show.
GRADE: C-
Emily Piriz sang "Let's Get Loud" by Jennifer Lopez
Keith Said: I loved it.
J-Lo Said: It's such a pleasure for me.
Harry Said: That song is a locomotive train and you need to drive the train, not just be a passenger.
The Verdict:
This is the exact type of song that I never understand why anybody picks it on this show: It's just not a singer's song. This is a song about the rhythm, about the music, about the beat - it's quality has nothing to do with the vocals - she could hum and have the same effect.
Vocally, it's fine. It's probably about as good as it could be - but there's just nothing much anybody can do with it, especially as she's singing to the record. She just got lost up there and didn't have a chance to shine.
GRADE: C
Caleb Johnson sang "Working Man" by Rush
Keith Said: You need to be within the band.
J-Lo Said: Great job tonight.
Harry Said: I know how I'm going to feel before I even hear you sing.
The Verdict:
Absolute dead-on solid song choice for Caleb - he's got the big arena rock voice and this allows him to stretch his strength out to the max.
Still, this isn't quite his best vocal. Last week he was better and he's been better before. It's odd that Caleb didn't 100% commit to this vocal - it seemed like he was holding back somewhat at times and didn't reach the crazy Geddy Lee heights that this song allows.
Who would have ever thought we'd need to tell Caleb to go for it?
GRADE: B-