'American Idol' Recap: A Blow-by-Blow of Nicki vs. Mariah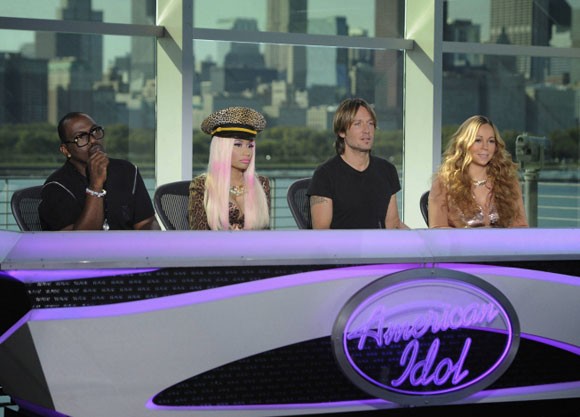 And here's when it all went down.
It took nothing more than a girl to say she used to sing country music to turn Nicki Minaj into a rambling crazy person. Well, even more of a rambling crazy person than she normally is. I wasn't anything like that to be the moment that spurred the fight that dominated tabloids back when they filmed these auditions, but apparently Ms. Minaj can't deal with constructive criticism…directed at others.
Let's backtrack. A pretty girl with a pretty voice and the pretty name Summer (see more below) came in for her audition and mentioned she sang country music for awhile. Keith, Mariah and Randy all enjoyed her audition and told her that she might fit better in the country genre.
During this time, Nicki sat in her blown-up diaper dress like a toddler who didn't get the toy she wanted at Hills (remember Hills?) and went on to berate all the judges for offering a bit of helpful advice to the hopeful singer.
I don't know why that sent fire ants crawling down her spine but it was a desk-slamming quick exit that shut production down while the other judges sat in agog disbelief at why Nicki Minaj turned into a nightmare child and stormed off in an expletive-laced tirade that shut the show down for a day and caused many of the contestants waiting for the second day to cry as though mommy just made daddy sit on the couch.
Luckily for all concerned, Nicki got the right medication for day two and came back as a smiling mensch in a toy soldier outfit who began complimenting people just for singing country.
So all is right in 'Idol' land for now. Let's hope it doesn't stay that way.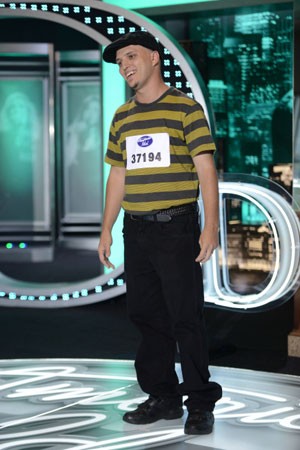 The Three Worst Auditions
Naomi
This is girl who led off the show in a popped open pink blazer and a bra that came from the Ax and Smash of Demolition collection. She's my favorite type of contestant: The terrible singer whose voice isn't so bad that it's an obvious joke. You can understand that when she hits all those "open mics" she humblebragged about where people might enjoy her singing. Fifteen drinks deep with the backing music louder than the din of the crowd, she did resemble something that sounded like singing. But in the cold light of a capella, it was just the sound of somebody screaming while burning her fiancee's sneakers in the bathtub. Maybe that's what the bra's for: protection.
Joel
This was the guy who must have walked into the wrong line when he went to audition for "King of the Nerds". He came in with a t-shirt tucked into pants, and a laugh reminiscent of a tuba with a golf ball stuck inside it. After telling Nicki Minaj that she looked like Cotton Candy, he proceeded to lay down for his audition. Yes, singing prostrate on the floor. It was very appropriate as his rendition of Michael Buble's "Feelin' Good" sounded like a vacuum set on low. Let's hope he at least cleaned the floor with that voice after defiling everybody's ears.
Brad
This is the guy in the bumblebee shirt who did about four minutes on the joys of eating bacon with the judges before launching into a special rendition of "A Whole New World" from Aladdin. He sounded like a stammerer receiving sing-as-speech therapy complete with the pauses, the repeated words and the overall lack of musicality that comes with singing for something other than for entertainment. Though this was very entertaining. In the worst way.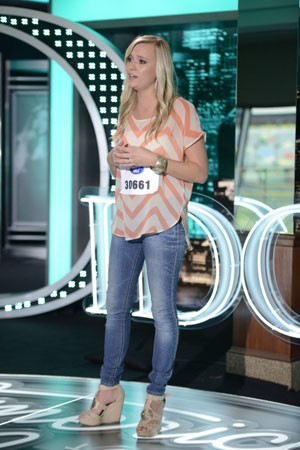 Three Best Auditions
Jimmy
This was the country guy with a wig I'm convinced he made out of his family's old Golden Doodle. Either that or it was his real hair. Not sure which is more disturbing. He sang some steady-rollin' country that definitely felt at least as good as Keith Urban. And I swear to God that was a compliment.
Summer
Hey! Remember that huge fight that I spent way too much time detailing in the introduction for this column? Well, there was a somebody singing before that fight, and she really nailed it. She rocked some "Lean on Me" with a bit of a country twang but the power that comes from pop/soul. She's got a pure pop/country crossover voice and is going to be able to handle all sides of this competition.
Janelle
This was the country girl who got her start playing a young Dolly Parton at a theme park. I would guess Dollywood. Otherwise there are far more crazy hicks out there than I care to think about. And I say that as a Carolina-born kid with a Snuff-spittin' dad named Gus.
Also, apparently I'm digging country tonight because it's a clean sweep for country/western in the Best Audition. This was the most straightforward of the bunch. Definitely in the Kellie Pickler vibe in terms of tone, rhythm, sound, hair color and ostensive IQ. Again. I swear to God that was a compliment.
The Best of Randy
Really, only one good quote from Randy. It was short, but it was probably the best of the year so far.
When Nicki asked him yes or no about one of the rejects, Randy responded simply, "Never."
Check back tomorrow to see if Nicki and Mariah continue to make nice or go back to the verbal sparring.