'American Idol' Recap: 13 Finalists Revealed + Power Rankings!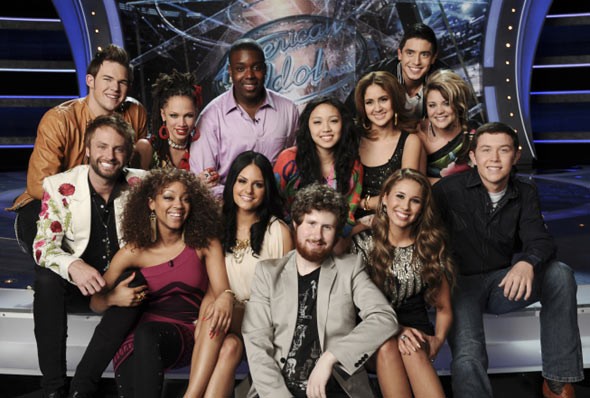 Last night's "Idol" was a tale of two shows: One incredibly boring, and one that made for some of the show's best television so far this season.
The first half can be summed up in 24 words: Casey Abrams, Haley Reinhart, Jacob Lusk, James Durbin, Karen Rodriguez, Lauren Alaina, Paul McDonald, Pia Toscano, Scotty McCreery and Thia Megia made the finals.
Yep, that's it. All we got for more than an hour was Ryan reading those names (eight of which I got right). And there really wasn't much drama because anybody who went down didn't really go down, as we still had the wild card round to get to.
In year's past, this round was a separate show. Another top 12 show where the judges saves competed for America's vote. Not this year. Instead, we got the judges calling out hopefuls' names and them rising off their stools of shame like gladiators to step up to the vocal challenge of singing for their contest lives.
Here's what's ridiculous about this: Each one of these performances would've gotten at least a B+ from me on performance night. Even the surprise pick Robbie brought it.
Maybe it's something about having that vote-off staring you right in the face, but all the performers really brought it with raw emotion and full effort. Why can't we see something like that on the actual performance nights? They all seemed like pros up there. A far cry from the scattershot amateurism we saw in their first week in front of an audience.
If we were basing choices solely on those performances, there wasn't a single singer that I'd have cut. In fact, I'd have gone back to some of the singers that did get through and replace them with these performers. And throw in Molly Dewolf Swenson while we're at it.
Of course, that didn't happen. In fact, we didn't even get all six in. The judges put through Ashton, the only real pop diva who was left; Stefano, who I've pegged (probably inaccurately) as this year's teen-girl heartthrob; and Naima, who fits the "uniquely talented girl" mold that has led to a wide variety of results.
That means this year's top 12 is actually a top 13, and here's a very quick breakdown of the favorites as I see with the first edition of our power rankings:
1.    Jacob Lusk
He's the best so far by a significant margin. He could dominate like Adam Lambert pretty soon.
2.   Stefano Langone
I'm sticking to my heartthrob story with Sefano. I foresee hundreds of screaming girls continuing to fill his hotline with votes.
3.   Casey Abrams
He's pegged as the "artist" this year. That's had a long shelf life in year's past, plus he has some level of Lee Dewyze in him.
4.   James Durbin
He's kind of like Adam Lambert in that he can yell. But he's kind of not in that yelling seems to be about all he can do so far. If he can put more together, he could be dominant, though.
5.  Pia Toscano
I don't see any of the girls having much of a shot this year, but Toscano seems the most likely – she's got the looks, the pipes, and the pop star vibe to get it done.
6.   Karen Rodriguez
I just don't think she has the voice to do it. But she's got the ability to create enough of a fanbase to rack up some serious support.
7.   Thia Megia
She seems like the best girl right now, but eventually being fifteen-years-old is going to catch up with her and she'll deliver a dud that sends her packing.
8.   Ashton Jones
The only real R&B soul diva in the competition. The only real R&B soul diva in the finals since Syesha Mercado. Typically, that's been the best way for a girl to pull off a win or make a deep run. I don't think she has the chops to do it though.
9.   Lauren Alaina
The judges seem to judge her, and she could make a run like Katie Stevens'. But I don't see her becoming a real threat.
10.   Naima Adedapo
She's got a lot of real talent, but is a little too offbeat to be a real threat.
11.   Paul McDonald
Speaking of offbeat…Paul could actually be the first one to go. Though if he puts it together, he's got a better chance than the last three:
12.   Haley Reinhart
This was the only real surprise for me in the finals – I think she's been pretty unimpressive this far. She'll have to improve significantly to be a real threat.
13.    Scotty McCreery
Sorry, Scotty. But eventually your ability to only sing one type of song in one specific way is going to catch up with you. There's no way he wins.
What did everyone else think? Who do you think has the best shot of winning?