'American Idol' Power Rankings: Week 2

This week it was revealed that the
American Idol
wannabes lip-synch their group numbers. I'd never really noticed that before, but tonight it was all I could think about as they sang a Motown medley and looked like fleeing civilians in a "
Godzilla
" movie. How did it take us this long to unmask this conspiracy?
Of course, there was also a lot of real singing this evening. First it was
Ruben Studdard
who looked like a bathroom attendant at a five star restaurant and sang a song that I'm pretty sure is called "Every R&B Song Ever Written". At least he gave
Jimmy Fallon
solace in knowing that somebody else sweated more than him on television this year. So that was nice.
Next it was
Smokey Robinson
and
Joss Stone
. Now I've never really understood the appeal of Joss Stone. I mean would she even finish in the top five on "American Idol"? She's like Megan Joy with more stage presence. Luckily Smokey joined her onstage looking both surprised and delighted, probably because his face is permanently stuck in that position. Why do legends get plastic surgery? Why oh why?
Stevie Wonder
saved the day with a great little medley of his hits. Nothing quite compares to seeing a legend rocking out on all the songs that made him an all-timer. Of course, medley's don't usually feature pregnant pauses between each song, but that's just a nitpick. Stevie's the best, even if he's gained about 400 pounds since the 80s and yell out "I love you,
Barack Obama
" for seemingly no reason whatsoever.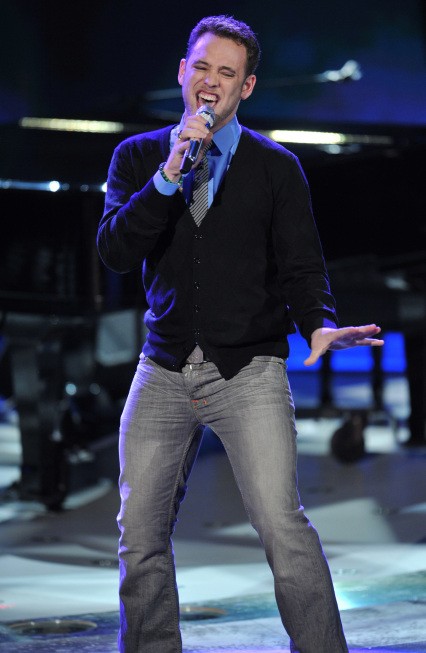 Of course, all the performance is just window-dressing for the results, and the surprises were mixed tonight. It was shocking to see Matt Giraud, easily the most talented contestant, slumming it with Michael Sarver in the bottom two, but form held true as the roughneck was sent back to his oil rig until the summer tour, as predicted here.
An even bigger surprise than Matt's being so low on the pecking order was the amount of time the judges took to not save Michael. They weren't really torn over the worst contestant left were they? Sometimes phony drama is just annoying, but justice was served and Michael is gone.
Once Megan goes (next week?) We'll be down to eight contestants who all have a shot to win the whole thing. This may be the most wide open "Idol" ever, a testament to the strength of the competition from top-to-bottom.
Speaking of which, here are this week's power rankings:
1 (Last week's Rank: 6)
Adam Lambert
The cheers were overwhelming for him on both the performance and results night. The fact that he didn't even hit the bottom three when he murdered Johnny Cash's music shows how much support he has. If he keeps from freaking out old people and butchering classics he has a great shot to win.
2 (1)
Danny Gokey
Even after a weak performance he coasted into next week atop a wave of cheers from the audience. Song selection is starting to become an issue for him, and he could be in trouble if he makes a poor choice with the first performance of the night - a forgettable possibility that often dooms good contestants. That doesn't seem likely to happen anytime soon though
3 (4)
Allison Iraheta
She's going to lock down the youth vote possibly for the rest of the competition and has the potential to be the best performer on any given night. She should coast for the next few weeks with a chance to win it in the end.
4 (2)
Matt Giraud
Giraud drops thanks to his bottom two trip this week, but that was likely a result of his performing first and not absolutely blowing it out. Maybe they should only re-air the first few performances when they're giving out numbers at the end, or something to make it somewhat fair for whoever goes first.
5 (3)
Lil Rounds
Rounds continues to look shakier and shakier as the judges fall further out of love with her each week. She's going to need to blow the roof off soon to reclaim her status near the top.
6 (5)
Kris Allen
The ladies love him, but soon his act is bound to wear thin. He's already done virtually the same song each week and it's only a matter of time before people get sick of it. He'll have to vary his performances if he wants to make a run at the top.
7 (7)
Anoop Desai
Anoop has a great voice, but he's just not the talent of anybody above him. He has the least room for error of any of the true contenders and one slip-up could send him out no matter how strong he is from week-to-week.
8 (8)
Scott MacIntyre
He landed in the bottom three this week showing that just because he's likeable doesn't mean he's going to gather up a bunch of votes. Michael Sarver was similarly affable and now he's gone. Could MacIntyre be next? He'll need to really shine in order to avoid elimination.
9 (10)
Megan Joy
Megan has absolutely no chance of winning. The only reason she continually avoids the bottom three is due to Vote for the Worst's support. That will wear out as the number of contestants grows narrower and she'll soon be gone.
What do you think about last night's elimination? Who should go home next? Who should win? Let us know in the comments!
Story by
Andrew Payne
Starpulse contributing writer