'American Idol' Los Angeles Auditions: Avril's Stupid Devil Hoodie, Hitting On The Judges & More

Last night was a vintage "
American Idol
" auditions show. It was a perfect mix of bad and good with the appropriate judges comments to match.
The good was really good, and the bad was YouTube-level awful. Several "Pants on the Ground" moments last night to match
Susan Boyle
-level brilliance. This was the show you always hope for when the commercials start airing for the upcoming season.
The guest judges matched the theme of the evening with one being absolutely awful (
Avril Lavigne
) and the other being completely spot on (
Katy Perry
). They're also both spokespeople for Proactiv, which is. . .convenient?
Anyway, on with the recap. . .
The Three Best Auditions
3. Tasha
First of all, she's a total knockout (so if you ever swing down the 5 from Granada Hills, look me up, Tasha), but more than that - she overcame some early squeakiness to settle into a voice with a fine soul flavor that pleasantly commanded the melody. She also has a great personality - like Megan Joy with talent.
2. Mary
Though she overdid it a touch with the outfit (
Adam Lambert
looks like Mary in drag) she had perhaps the purest and clearest voice so far in this competition. A finely tuned instrument that held a perfect and steady tone with the utmost control. She sounded absolutely fantastic.
(Side Note: Avril thought her voice was raspy even though it sounded like a piece of silken crystal. Might be hard to hear through those fake devil ears.)
1. Andrew
Wow. First of all, he has a great name. Second of all, he has a remarkable story coming from a family immersed in gangs (a segment that brought the most cloying statement ever from a producer as she tried to get his father to sob harder by asking, "Are you proud of your son?" after he was already crying about how proud he was.) Most of all, however, was his voice. He sounded like Danny Gokey with some more refined edges and every ounce of the soul. An endless river of buttery brilliance with a rawness that only accentuates his brilliance. Easily the best so far.
The Four Worst Auditions
There was so much badness, we needed an extra slot.
4. Jason
This is the guy who sang, "I Touch Myself" like a chorus of sepia-toned kids with glowing eyes. He was kind of like Jeffrey Dahmer's fever dream. His performance was a weird dance that looked like an
Iggy Pop
drag show and afterwards he kept flirting with
Simon Cowell
in a manner that usually earns a seat across from Chris Hanson. The kicker was, of course, that he gave
Ryan Seacrest
his number causing the host to slyly deny persistent rumors and pass it along to a scary security guard. As close as this show can get to intentional comedy.
3. AJ
This is the guy who barely opened his mouth as he mangled "Cult of Personality." This after telling the world that Adam Lambert loved his demo tape. The "Idol" runner up must have gotten too much guy-liner in his ears because AJ sounded more like a baby on helium gargling motor oil than he did a singer. At least he remained positive afterwards.
2. Damian
This is the guy who was pulling a Daniel-San on the roof of the building as he proclaimed his pacifistic love for martial arts. All in all, his diatribe before his actual audition was kind of reminiscent of
Quentin Tarantino
. His rendition of "You've Lost That Loving Feeling" kind of sounded like a radio station that was just out of range, yet you really wanted to hear the song so you keep futiley messing with the dial. Ironically, nobody wanted to hear this Damian's song, which he ended by imitating the sound of being stabbed in the heart.
1. Austin
Where do we begin with Austin?
Do we start with his proclamation that, "I don't think there's every been anybody on 'American Idol' that's sexually ever been like me." Which is probably because they don't allow convicted sex offenders on the show?
Should we lead off with his performance that told us what it would look like if
Michael Jackson
went to Hell, mated with the devil, and that spawn was then summoned to earth as a traveling minstrel?
Is it best to begin with the strange percussion snow angel that served as a finale to his strange routine?
Is a logical starting point the faux-British accent with which he sung? An English accent that had
Rachel McAdams
in
Sherlock Holmes
thinking he needed to meet with a dialect coach.
Should we commence with the judges comments like Katy saying, "I'm scared," and asking, "Are these people frisked before they come in here?" or Simon stopping Austin by saying, "You're beginning to freak me out?"
Or should we get thing started by nothing the fact that Austin, against all odds, looked kind of like a pale
Joseph Gordon-Levitt
?
Oh wait, I guess we already covered everything.
The Best of Simon
As Neil, the first auditioner of the night forgot his lyrics to "Rock 'N' Roll Dreams Come True" right at the part where he said the word "Remember", Simon chimed in, "That's ironic."
To AJ, the man who wouldn't open his mouth: "Sounded like you'd gone to the dentist about ten minutes ago. With about a ton of anesthetic coming out and you couldn't sing."
Other Random Thoughts
Is Avril Lavigne 9 years old? She shows up in a devil hoodie and slumps in her chair like a kid who's bored at church and makes comments like shouting, "Awkward!" and telling a dad, "You have to travel!"
Conversely, Katy Perry was the best guest judge yet. Funny, expressed real opinions, and looked professional the entire time. Plus, watching her snarkily rip on Kara was cathartic for just about everybody watching, I'm sure.
Normally this spot would be reserved for the people the judges hated that I liked and vice versa, but tonight there was no discrepancy. Either they're getting smarter or I am.
And finally, the best note I wrote to myself was somebody whom we didn't get to see sing, and was never even named. Still, he was memorable enough for me to say, "He looks like Morris Day after he got in a hockey fight."
Admit it, you know exactly who I'm talking about.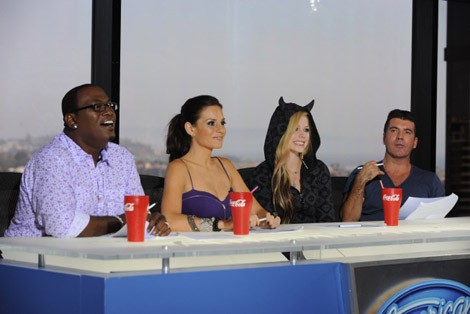 Image © PR Photos
Story by
Andrew Payne
Starpulse contributing writer