'American Idol': Heejun Han Goes Home + Power Rankings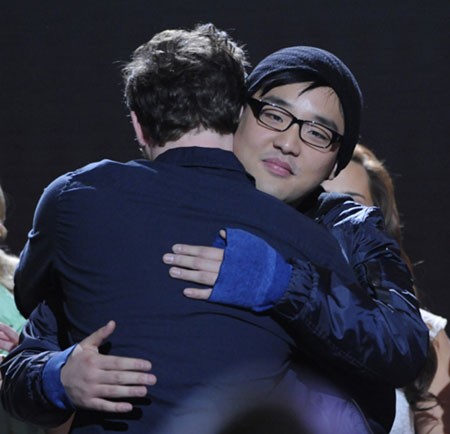 And another favorite goes home. I've had such a terrible run with my favorites since I picked Kelly Clarkson as my favorite contestant in the first season. It's been nothing but disaster since.
In my wake you'll find the Anoops, the Carly Smithsons and the Gina Glockens of the world. Of course, you'll also find my favorite contestant of all time: Molly DeWolf Swenson, who didn't even make the live shows.
Yes, being my favorite has been cursed since I helped Kelly to a win in the first season, and now the end has come for my favorite this year: Heejun Han.
It's kind of odd timing really as he rocked out with his best performance on Wednesday and that's what caused him to go home. Maybe he shouldn't have done away with the funny version of Heejun. Perhaps audiences were voting a lot on his personality and not his singing. Whatever the case, another of my favorites has bitten the dust.
At least I had Nicki Minaj to implant nightmares in my brain for the foreseeable future. That's always nice.
Power Rankings:
1 (Rank Last Week: 1) - Phillip Phillips
Phillip continues to be bulletproof. Of the cute-guy-with-guitar winners (Kris, David, Lee) he's actually probably getting the best reviews from the judges. I don't see how he loses at this point.
2 (2) - Colton Dixon
Not to use religion as a tool, but you have to wonder if Colton may be locking down a large section of the voting public by positioning himself not only as the emo rock god, but as the Godfearing contestant in the group. I'm sure he's earnest in his faith, but it could have a residual effect in getting him more voters too.
3 (4) - Skylar Laine
I know she was in the bottom three this week, but with the way 'Idol' has gone in the past, country is always going to trump soul music. So of the people with barely any chance of toppling the leading two, I'll give Skylar the best odds.
4 (3) - Joshua Ledet
Ledet certainly has the chops, the voice and the presence, but he sings in a genre that hasn't seen a winner since Fantasia. Or even Ruben. Soul singers have just died out on this show since the texters have taken over and I think Joshua will have too much trouble overcoming that.
5 (6) – Jessica Sanchez
It's clear that of the non-country girls, she's the favorite among fans. That still just makes her the best non-country girl. Not a category that's produced many winners in recent seasons.
6 (5) – Hollie Cavanagh
Hollie's big problem right now is that each performance is starting to sound exactly same as the one the week before. We've seen these contestants peter out as there's just nothing new to vote for every week and it get boring. I think that will be her fate sooner rather than later.
7 (7) – Elise Testone
Elise is really starting to wow the judges, but I don't think she's having quite the same resonance with voters. She's avoided the bottom three recently but that's thanks to a pimp spot and some bad performances by others. I think she's got a very tough hill to climb to even make the top five.
8 (9) – DeAndre Brackensick
DeAndre just keeps skating by on this show, but it's really only a matter of time before he's the next one out. He missed the bottom three, but I can't see that happening again.