'American Idol' Girls Battle On In Round Three Of Sudden Death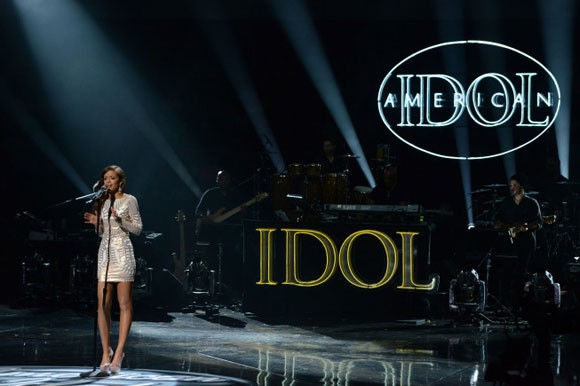 The remaining girls return on "American Idol" for round three of Sudden Death in Las Vegas before a live audience at the Mirage. By the end of the night; Randy, Keith, Mariah, and Nicki would have pared the 10 singers down to only five.

Melinda got the night started off that Keith thought was great but his fellow judges didn't quite agree with him.

Making a return visit to Idol Candice gave a performance that had the judges proclaiming that while it wasn't her best performance, she is a natural born singer.

Fifteen year old Juliana played guitar as she sang in a performance. While Mariah called her voice angelic and Nicki called her the only singer in the competition that had a signature sound; Keith noted that she struggled with the pitch.

Jett played the piano as she sang in a performance that brought mixed reviews from the judges; while they loved the arrangement, they felt the song needed to go somewhere.

The judges loved Christabel's performance saying that she had crazy potential, a unique voice, and allowed herself the freedom to let go.

Randy liked that Aubrey chose to perform an up-tempo song after so many ballads. Randy and Nicki were obsessed with Aubrey and the judges agreed that she was the complete package and a current commercial artist.

The judges noted how happy and confident country girl Rachel displayed but Keith thought that in places the song got on top of her. Nicki said that she was excited to see Rachel come alive.

The judges gushed over Breanna calling her the other artist that was very marketable and had the complete package. Randy said that he would also sign her right away and Nicki told Breanna that she should team up with Aubrey and get two more girls to form a group; that they could rule the world.

Country girl Janelle has been trying for three years to become a part of the show and while the judges all loved the Lady Antebellum song she chose, they didn't think the song showed off her skills as a singer.

Zoanette finished out the night's performances with her rendition of "Circle of Life" from "The Lion King" and brought the house down. She had the judges on their feet with Keith saluting the queen of the jungle and the judges proclaiming it the perfect song choice.

After their deliberations the judges gave yes votes to Zoanette, Aubrey, Breanna, and Candice; but Melinda, Jett, Melinda, and Juliana all received no votes leaving country girls Janelle and Rachel the last two standing with only one spot remaining.

After trying for three years Janelle is finally getting her spot on the show but Rachel will be going home.

On Thursday the remaining guys will have their turn and fill out the top 20 singers for season 12.