'American Idol' Finale Mega-Diary: The Blow-by-Blow Of Scotty McCreery's Big Win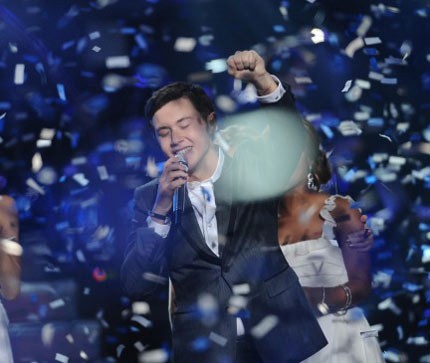 Last year, I wondered if, in the midst of Simon's departure and one of the show's worst seasons both from a quality and ratings standpoint, if the finale of this show was going to be worth the mega-diary treatment next year.
Well, it turns out it is, as 'Idol' came back better than anyone could have realistically expected. I couldn't be happier, and here's the mega-diary to prove it!
8:04 – 4 Minutes in and we still haven't finished the introductions. But at least we got a Lori Loughlin sighting!
8:04 – Really? Scotty fans packed the RBC Center to do…nothing? They can't even do that for Hurricanes games. And that's hockey for all of you who don't know. Also normally referred to as Americans.
8:06 – I'll say one thing for the 'Born This Way' number – they weren't lip synching. Of course it would have helped because they sounded about as harmonic as a group of children at an assembly having their section pointed at during a round.
8:07 – Looking at all the contestants onstage at the same time makes me wonder – if you stuck somebody in front of the TV who hadn't followed 'Idol' at all and asked them to name the two finalists how long do you think it would have taken them to get to Lauren and Scotty? And who would they think were the top contenders? I say about eight guesses and Pia and Jacob, respectively.
8:13 – I know James loves his vintage metal, but surely he would have preferred singing with Ripper Owens to Rob Halford. What? Every Judas Priest fan is now outside my front door with pitchforks?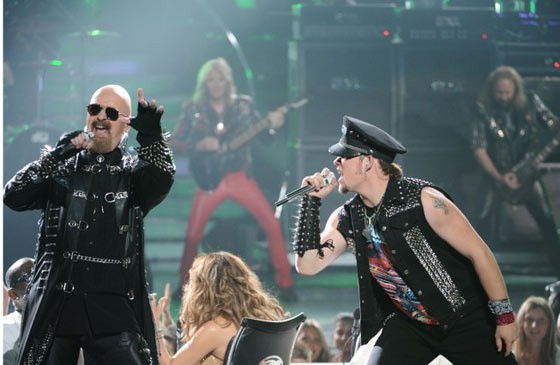 8:16 – How many of these clip reels of Randy saying the exact same thing are we going to have to run through before he either decides it's time to start saying something original or he's replaced by a different judge? Or was that it?
8:19 – I was one of Jacob's biggest supporters throughout the season but seeing him onstage with Gladys Knight and Kirk Franklin makes me think I may have overrated him a touch. But not by much. He held his own up there which is rare at this stage in 'Idol'-dom. I still contend he's got a soulful future once he gets a little more polish on that Lusky Stank.
8:26 – Seeing Casey Abrams onstage with Jack Black made me realize an analogy I should have been making all year: Casey is just like Jack Black as a musician if Jack Black was being completely serious and didn't have his tongue planted anywhere near his cheek. Plus it's gotta be pretty embarrassing when you consider yourself a Jazz virtuoso and a comedic actor matches you skat-for-skat.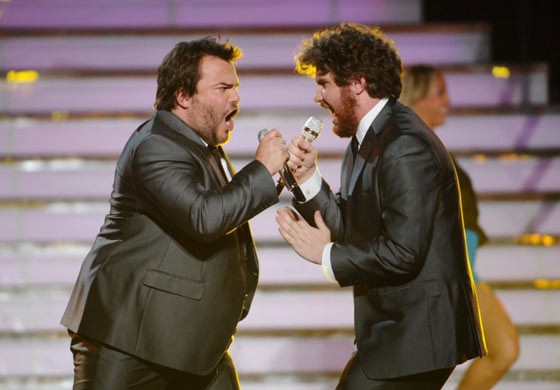 8:30 – Sorry, I can't watch anything called "The Ladies of 'American Idol'" without getting depressed about the short tenure of Molly DeWolf Swenson. She should've been invited back for this. Plus, I'm sure she would have crushed the 'Single Ladies' dance too.
8:33 – Although I did watch the ladies long enough to realize this simple fact – whatever you want to say about her level of charisma, Pia is a much better singer than the other girls.
8:35 – Oh, also Beyonce is pretty much better at her job than anybody else is at theirs.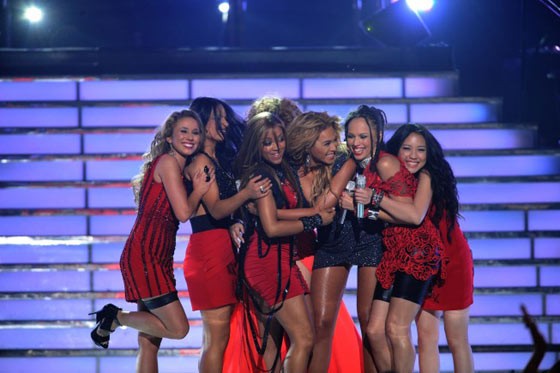 8:40 – Hey, remember when we all though Steven Tyler was a shot of adrenaline to this show and capable of saying all sorts of fun and unusual things rather than just overly praising every contestant and saying their performance was "beautiful". No? Well here's a montage to prove it.
8:43 – Her performance with Tony Bennett just proves everything I said about Haley all year – she's a lounge singer! And apparently a damn good one because she sounded like a singer in the back room of a film noir on that one. She would have been the biggest star in the world during the swing revival of the late 90s. Too bad that's over. Oh well, maybe I'll see her at the Dresden Room one night.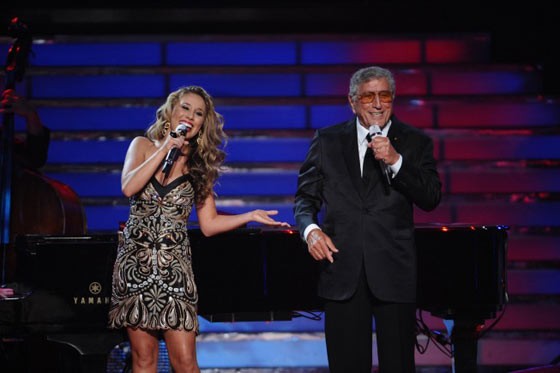 8:45 – If there's one thing we didn't need, it's a montage proving that people think J-Lo is hot. That's like having a montage proving people think Steven is stoned or Randy is useless. We already know that!
8:47 – Not to be too grim, but aren't they more actually called "TC" now? Seriously, RIP Lisa Lopes – she was my favorite member and this is a nice nostalgia trip for my 27-year-old musical sensibilities. I actually remember the "Waterfalls" video serving as a safe-sex seminar to my young mind. If only I'd have had a girl with whom to practice it.
8:51 – There's been a lot rumbling that country radio programming directors don't dig Scotty's voice. I don't understand it – he sounded like a more authentic country guy than even Tim McGraw on this performance. Or maybe I just don't understand country music that well. I need to watch "Nashville" again.
9:00 – This montage proves while 'Idol' will always be so much better than the voice. The bad auditions are like the show's secret weapon. Everybody forgets how much they love them, or don't want to admit to delighting in the misfortune of others, but when you run those clips together it always gets a laugh…at least out of me.
9:02 – Hey look! It's the guy from 'Hawthorne'! I didn't know he sang!
9:03 – But hey, his wife sure is something else. Still, only about a 9 on the Molly DeWolf Swenson Scale of Hotness.
9:07 – Sorry, I passed out from boredom over that 'Shocking Eliminations' package.
9:09 – In case you're wondering why Prince's "Kiss" was included in a Tom Jones medley – just check out this travesty.
9:14 – Yes, it's true. 'American Idol' just spent 7 minutes paying tribute to Tom Jones. So what would The Beatles get? 7 months?
9:19 – Don't worry everyone! We're still doing a Ford Music Video this week! In fact, here's every single Ford Music Video put together as one! Enjoy! 
9:21 – Whoa! Hello, Scotty's chorus teacher! Let's just say she would've been my favorite teacher too. And I didn't even take chorus.
9:24 – I know I'm not supposed to say this as it will offend all the music snobs out there, but I much prefer Lady Gaga's "Edge of Glory" with the dance track behind it than I did her stripped down version on 'Saturday Night Live' this week. That's what Lady Gaga does: She makes credible dance-pop records and this, to me, is another big hit with a great hook and a solid melody. I could've done without the weird Kenny G-scored interpretive dance though. (And yes, I know that wasn't Kenny G – it's called a joke.)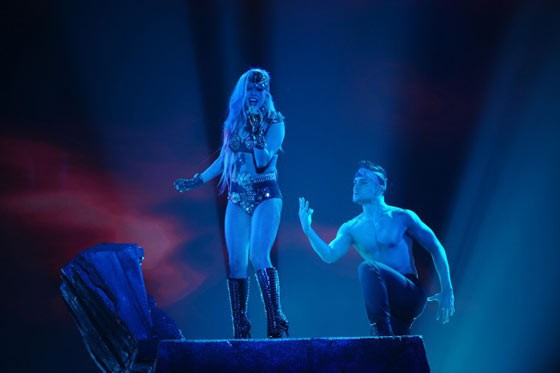 9:32 – And here's where Carrie Underwood proves she's miles ahead of Lauren Alaina as a singer. And I know she's had plenty of time as a pro, but she was miles ahead of her when she was a contestant too. I hope I'm not saying anything that serves as a revelation to anyone there.
9:34 – Hey! There's Jennifer Love Hewitt! Did you know she's the rumored replacement for Christopher Meloni on 'Law & Order: SVU'. I guess they're trying to absorb the massive 'Ghost Whisperer' fanbase.
9:35 – I'm sure the joke was written for him, but the 'American Juniors' reference from Stefano was absolutely boffo. Of course, I don't find anything funnier than making obscure bad TV references.
9:36 – Ryan leads Beyonce in as "The Unstoppable Icon" and for once he's right with his insane titles for singers. Of course he's so loose with that type of praise I expected anyone from Mariah Carey to the female member of Rednex.
9:39 – I love Beyonce and she can sure sing the Hell out of a song, but I found that a bit boring. It was like 'Thunder Road' without the grit and the passion. Just an endless and formless ballad. I don't really see how it becomes a hit, but I'll probably be wrong there.
9:46 – This to me was the biggest moment of the night. There's not been a more infamous piece of entertainment that's ever been quite like 'Spider-Man: Turn Off the Dark" and I was really looking for a peek inside this bomb. And it did not disappoint. This song made 'Get On Your Boots' look like 'Where The Streets Have No Name'. And how exactly does something like that play during a Broadway show? It doesn't exactly have show-stopper chiseled into it. The scary thing? This is the song they chose to showcase on the number one show in the country.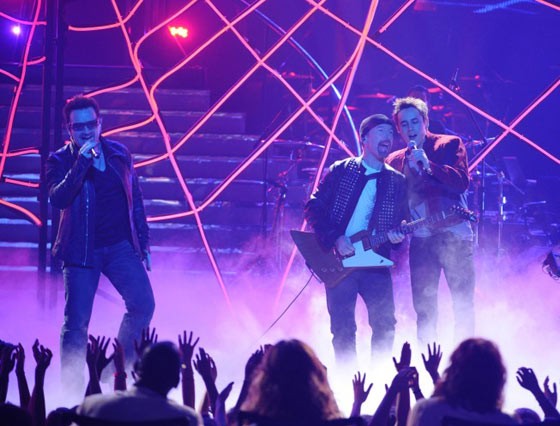 9:54 – The best-case scenario for Steven Tyler's judging this show as it ending in an Aerosmith medley. But how long can he resist singing his new turd of a song? The watch is on.
9:56 – Well, that was a bit of an anti-climactic climax, only one song, but he nailed those 'Dream On' notes. I was expecting about 7 minutes of Aerosmith with the Joe Perry animus wearing off.
10:02 – And Scotty McCreery wins! Just as I (kind of) predicted all season. Yes, I'm not going to run away from the fact that I gave Scotty a zero-percent chance of winning going into the final 13. Probably the single-dumbest thing I ever wrote in this column. Though I'm sure the readers and commenters would disagree with that. But it all seems so predictable now: The country guy with a guitar. It's like a perfect 'Idol' formula! Maybe I'll be wiser from now.
Until next year, I'll pull a Randy Jackson and sum up the season by repeating everything I said this year:  The judges suck, I can't stand Casey, Molly DeWolf Swenson is a major hottie.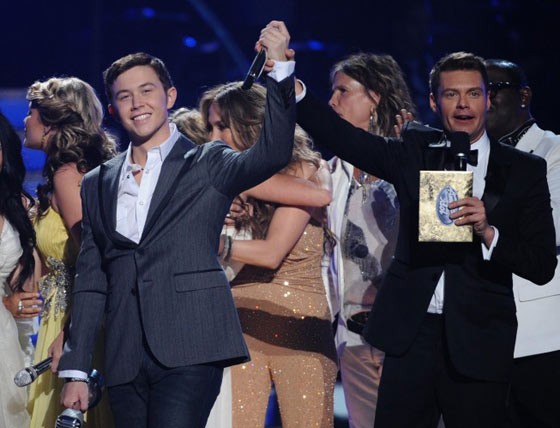 Latest American Idol headlines:
• 'Idol' Finalist Lauren Alaina 'Sprained' Her Vocal Cords
• 'American Idol' Recap: Was This The Most Boring Finale Ever?
• Jennifer Lopez Shows Off Her Curves In A Tight Blue Dress
• Bono And The Edge To Perform On 'American Idol' Finale
• Steve Martin To Perform At U.S. Capitol On July 4th
More American Idol news & articles