'American Idol' Finale Mega-Diary: Complete Recap of Candice Glover's Win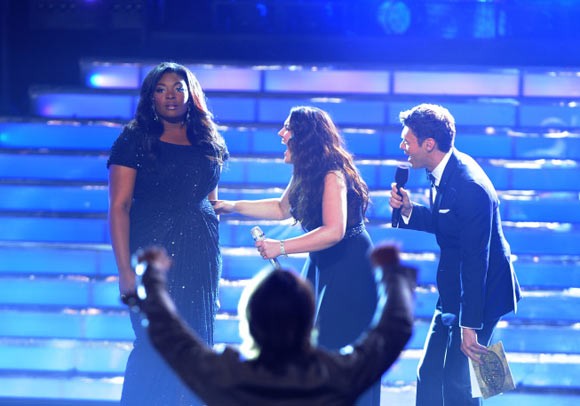 This is it. This is the last one.
For years, I've been recapping the cultural touchstone that is the finale of 'American Idol' with the classic mega-diary treatment: A blow-by-blow recap of everything that went down on TV's biggest night.
At least it used to be. Once Upon a Time only the Oscars and Super Bowl drew more viewers than this night, but the last couple year it's viewership has slowly degraded to the point where one of this season's results shows got beat out in the ratings by a repeat of 'The Big Bang Theory.'
That's enough to prove that the 'Idol' finale just isn't anywhere close to deserving of the mega-diary treatment – it's clear that it's time to put this tradition to rest.
So this will be the last Finale Mega-Diary. Barring some major Sea Change next year where this show rockets up the ratings, we'll be back next year with a different way to recap the show's two hours of filler with the fourteen seconds of drama that matter.
Until then, here's one more for the road.
8:02 – This may shock you ,but the evening begins with all of the top ten contestants singing a dorky arrangement of a song with terrible choreography. Nothing like that has ever happened on this show before except for every time they've announced the results. Highlights: Kree looking like she's wearing tear-away pants, Angie showing she's clearly got more star potential than anybody else in the group and the choice of song: The Wanted's "I'm Glad You Came." Secretly the dirtiest song title ever.
8:04 – And here are your judges! For this season and this season only. Sad that this is the final night for the Dawg. Sadder that we won't get to see Nicki judge again – she deserved another shot. Indifferent that Keith is leaving – I often forget he's even on the show. Tremendous celebration that we never have to see Mariah Carey on this show ever again. Let's hope next year they go for judges that have something to say and can interact with each other rather than just plopping big names on the panel.
8:06 – Answers to Ryan's questions:
                1 – Unintelligible mumbling
                2 – "Five hours". "Same".
                3 – "Not really." "We're tired."
                4 – "We're gonna party" – said like somebody who just wants to go to sleep
It's hard to believe these charisma factories didn't capture the public's attention this season.
8:11 – I have absolutely no idea who The Band Perry is yet I've heard them discussed more than just about any musical artist on the planet the last year or so. They're like the "Navy: NCIS" of bands - I know it must be hugely popular somewhere, but I couldn't tell you a thing about it. Now that I've seen their wares, it seems The Band Perry is some sort of hipster country hybrid with AC/DC hair that incorporated Janelle way too easily to be considered anything beyond bland. No band should be in danger of getting blown off the stage by the poor woman's Lauren Alaina.
8:15 – I'm not sure what fake documentary is less funny, the "conspiracy" about guys getting sabotaged on 'American Idol' by the girls or the last two seasons of the office. Wait, this fake 'Idol' doc is way funnier. Thanks for the nine years, 'Office'! At least these contestants take themselves less seriously than that comedy.
8:18 – Still on the fake documentary – Loved the jab by Jordin at "The Voice". She summed up the reason I can't stand that show: Everybody who's on it is discovered "undiscovered" talent. They're ringers! It's pointless! It's a shame that's one of the reasons 'Idol' went so far out of zeitgeist.
8:19 – Hey! It's all the guys! They're in smart suits! They're singing! They're…proving exactly why they all went out in succession to start the season! Yeah, there's just not much there. And it doesn't help when you start singing a Four Seasons medley.
8:21 – Of course they chose The Four Seasons because they were able to get…Frankie Valli! Conversation backstage: "Guys, we're hemorrhaging younger viewers. We're getting beat by repeats of sitcoms." "I got it! We get Frankie Valli! That will solve all our problems!" Here's what happened to that producers' career -
8:29 – A lot of people lost respect for Mariah Carey when she went insane a few years ago and started calling herself Mimi or whatever. She always stayed good with me because I knew she could still blow. This performance proves that she still has the same lungs, unfortunately we know they're also able to undermine an entire television dynasty by talking. Respect over.
8:38 – Get your tickets for the forty-city 'American Idol' tour! What venues are they playing in at this point? Shopping malls? Boat shows? Bar Mitzvahs? I can't imagine what else they'd be able to fill.
8:39 – This Emily Sande woman always reminded me of KT Tunstall: Cool folk-based pop with a soul groove with brilliant melodies. Amber kind of makes her look silly from a vocal standpoint. That girl can flat sing – it's strange she just never quite put it all together. Though nothing here looked sillier than Keith's seated white boy dance from his judges' post. Is anybody surprised he didn't catch on?
8:42 – I've been speeding so quickly through these results shows that I didn't even realize there were "Ford Fiesta Missions" for the contestants every week. Now that I've seen the highlights I…don't regret missing them at all. Though at least they improved on the Ford Music Videos. Nice to know something improved this season.
8:45 – Here's the problem with PSY's "Gentleman": It totally ruined his legacy. He was supposed to be the next Macarena, the next Mambo No. 5, the next every cheesy one-hit wonder with "Gangnam Style". That was supposed to be it. Then this one comes along and hits number 5 on the Hot 100 and it's completely impossible to call him a one-hit wonder. Hell, eh may have a third hit with the way Billboard's algorithm is factoring in YouTube streams these days. That's just not the way it was supposed to work.
8:53 – It freaks out and annoys everybody that British and Australian people don't have an accent when they sing. It just doesn't make any sense. Well, y'know what's even stranger and more annoying than that? How Keith Urban develops and inexplicable Southern accent when he sings. Again, hard to believe he never caught on.
8:58 – So it's natural to compare Jennifer Hudson and Candice Glover because they're both gigantic-voiced soul singers who pretty much did the same type of music on 'Idol'. I'm not going to say who's a better singer, but I'll say this: Having never seen Candice act, I can promise she's the better actor.
9:06 – Look, it's Adam Lambert right next to Angie Miller. The two biggest 'Idol' robberies of all time rocking out together. What? Pia Toscano and Daughtry were washing their hair tonight?
9:09 – Speaking of hair, what the Hell happened to Jessie J? Is she preparing for the musical remake of 'V for Vendetta' or something? (Yes, I know she's raising Cancer awareness, but that was too good a joke to pass up.)
9:10 – I don't care about her hair. "Domino" is just amazing.
9:12 – I'm glad Jessie J announced that her new single is called "Wild". What a revealing and important piece of news!
9:16 – The only thing more boring than the judges this season is definitely the contestants breaking down the judges' performance this season. Especially when the bit runs for six minutes and is topped off by Devin with a fake butt. Ugh.
9:22 – Seeing Randy perform onstage with Kree brings to mind the most underasked question in the history of television. Randy was a session bassist. How did he get to judge a singing competition and become so famous for doing so? He definitely maxed out about as much as anyone in recent pop culture history.
9:29 – Speaking of Randy…there's dogs saying goodbye to him. Yay! Dogs!
9:30 – Randy was so smart to quite before he could get fired. Nice to see a retrospective of The Dawg. Say what you will about this show, but he, Simon and Paula combined to change television forever. There's an entire subgenre of shows based on what they did together. The best part of the package though…A surprise visit from Molly DeWolf Swenson in the finale! Her lovely face made watching this entire finale worthwhile.
9:34 – It was so nice of them to give that lady in an old Aretha Franklin mask a chance to sing with the contestants on this show. And she sounded just like her! I wonder if that counts as 'Idol Gives Back' for this season?
9:38 – As nice as it is see Aretha, let's just say that in terms of old soul singers appearing on this show, this registered about a 0.5 out of 10 on the Jennifer Holliday's Appearance Last Year Scale.
9:46 – Were there people out there who actually voted on which car to give them? Does anybody possibly have an opinion on that? Such a strange piece of social marketing.
9:48 – All I know is that kicking out Zoanette and Kez Ban basically ruined any chance this season had of being fun. It's no good when you watch the retrospective and all the people with any bit of lasting impact didn't make the live shows. Why exactly didn't they have either of them back for the finale?
9:50 – I thought this performance was going to break my years-long streak of not knowing who Pitbull was or why he was famous, what his talent is or what he actually does, but I was wrong. I still have no idea what his use is other than keeping the linen suit industry along.
9:51 – Come back, J-Lo. The show needs you. And see if you can get two (not three) more coherent judges with something to say to come along with you.
9:59 – As if this show hadn't run out of all its steam, the producers decide to cap the night with the two most boring finalists of all time singing a duet to just make sure there's no ounce of fun left. Like they need to sanitize the building of fun and energy before the cleaning staff gets there. And these two "divas" are doing an excellent job of that. Singing one last boring song with a level of disinterest normally reserved for a kid singing a hymn at church. Would it kill the producers to pick something upbeat? Would it kill the girls to show some level of enthusiasm? I don't know. Maybe it would.
10:04 – And Candice wins! Yes, it should have been Angie, but if it wasn't going to be Angie it should have been…Amber. Okay, but if it wasn't going to be either of those two it should have been Candice. In terms of raw singing ability, nobody beat her this season and, after all, this is a singing competition. The best part? Candice tried out for this show three consecutive years and never made it to the live shows. Now she's finally gotten through and won the whole damn thing. Not sure if that shows that the talent pool has run dry or if persistence pays off. I choose to believe the latter.
That's it and that's all. See you in the Fall for 'The X-Factor'.