'American Idol' Down To Three After Hollie Cavanagh's Dismal Bonnie Raitt Cover Does Her In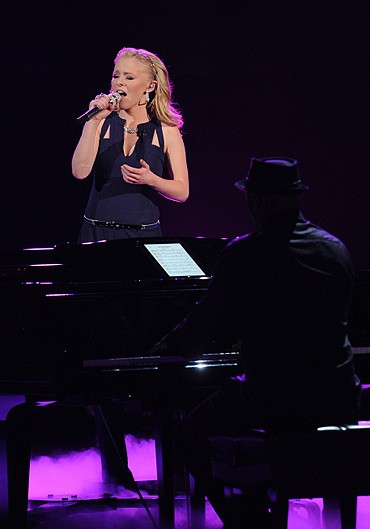 Hollie Cavanagh couldn't make America love her.

The 18-year-old McKinney, Texas, native received the fewest number of votes on this week's American Idol and was sent home Thursday night.

Hollie's lacking performance of Bonnie Raitt's breakup ballad "I Can't Make You Love Me", which judge Randy Jackson called "the wrong choice at the wrong time", proved to be the budding singer's downfall.

Mentor Jimmy Iovine said Holly "crashed and burned and lost out to those other three singers," chalking up her woes to her lack of having "the personal experience or the professional experience" to take on such a song.

Holly's departure leaves just Joshua Ledet, Jessica Sanchez and Phillip Phillips in the final three, who will all head back to their respective hometowns for next week's show.

Nearly 70 million votes were cast by Idol viewers to determine tonight's cast-off. Former winner David Cook (season 7) performed his new single, "The Last Song I'll Write For You," and judge Jennifer Lopez took to the stage for her new song "Dance Again."

The season 8 champion will be crowned on May 23.