'American Idol' Denver Auditions: Bikini Boy & Lots More To Make Fun Of

Maybe it's the altitude, but I found myself disagreeing all summarily with the judges during the Denver
American Idol
auditions.
And it was on both sides. There were a few that I found spectacular that the judges hated, and several that I thought were absolute chores to sit through but the judges couldn't get enough of.
Of course, there was some agreement between us (and I'm certain they care so much about agreeing with me) and plenty of auditions well worth making fun of.
And with that, on with the recap. . .
The Three Best Auditions
3. Mark
This was the guy who said everyone told him he looked like
Jack Black
. He came in wearing goggles from a 1930s airplane and went on to tell a crazy story about being kidnapped by his mother when he was a kid. He followed this up by singing 'Tempted' with a wonderful pure sound. His voice could use a little filling out, as it came off a bit meek, but he had soul smoke pouring from him as he sang.
2. Nicci
This was the girl who flew from Florence. She just had a great sound. She sounded like a disco diva from the seventies or a party pop queen from the early 80s. It's strange to call somebody a throwback when they recall something so current, but she was definitely a nice departure from what we're used to seeing on this show.
1. Casey
This was the country guy all the judges hated because he didn't have much of a personality. I assumed this was a singing competition, and thought he was brilliant. I compare his voice to a butter churn, because it at the same time rich and smooth like butter, but has the down-home feel of a farm tool with his country roots. He sang so effortlessly, the voice just poured form him. Maybe it was that lack of effort that contributed to his poor review from the judges.
The Three Worst Auditions
3. Mario
This was the guy who punctuated each one of his spoken sentences with a strange little chuckle. He sang 'Jailhouse Rock' and sounded like a belt sander that had already eaten through the piece of wood it was meant to smooth and was now grinding into the workbench. He does work as a nicotine addiction counselor, so we know he's doing something good.
2. Austin
This was the guy who was very impressed with the fact that he was both a long snapper for his college football team and that he liked to sing. How crazy! He had a face and personality that's just begging for a sucker punch. His voice was almost like an actor playing somebody who couldn't sing.
Think about it this way. Say there's a '
Saturday Night Live
' sketch where a family parades out their children to sing for a dinner party. These kids can't sing a lick, and the game of the scene is how everybody needs to react without insulting the children. If a player from SNL were portraying one of the poor child singers in the sketch, they'd use the same voice Austin used for his "American Idol" audition.
1. Ty
This was the guy who dressed in a bikini and sang "Achy Breaky Heart" while gyrating his hips and forgetting the lyrics. Yeah, that doesn't need any further qualification.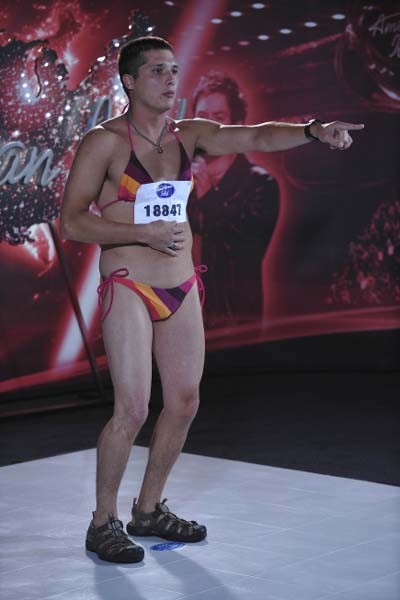 Image © Michael Becker / FOX
Best of Simon
His response to Mario telling him that he was cast in a local production of 'Jekyll and Hyde': "Did that show actually open?"
To Tori, the overly tanned girl surrounded by children and wearing a gaudy sundress, "You're like a human orange."
To Kenny, "You sounded like you'd been punched and you were just screaming."
His reply to Victoria's suggestion that a guy who sounded like a drunken Elvis impersonator consider going to Vegas - "Yeah, as a holiday."
And finally, from an endless number of promos - He told one squealing girl, "I think you just killed every cat in Denver."
Other Random Thoughts
Once again, there were plenty of contestants I hated that the judges loved:
Kimberly - She sang 'The Way I Am' without much of a voice. She sounded just like
Corinne Bailey Rae
with mild laryngitis. She's absolutely gorgeous and has a great personality, but that's no reason for the judges to put her through with that voice.
Danelle - This was the karaoke host who kept crying and complaining about playing in bars and casinos (apparently she doesn't know anything about starting a music career). Rather than singing 'I'm The Only One' by
Melissa Etheridge
, she absolutely screamed it with no control whatsoever. Amazingly, the judges were moved enough by her having the same story as every other struggling singer in the world to put her through.
Posh showed once again that she's an excellent guest judge, offering good quips and handling everything very professionally. Rumors are that Simon is trying to get her for the American "X-Factor", and after two stints on 'Idol' it's easy to see why.
Finally, the best note I wrote to myself was about Tori, who I said sounded like a mouse trying to sing the blues. Okay, maybe that wasn't the best, but I used all the good stuff up top. It's all for you, people!
Story by
Andrew Payne
Starpulse contributing writer