'American Idol' Dallas: Best & Worst Auditions

Apparently I was very grumpy last night, because even though the judges were mostly blown away by the talent pool in Dallas, I found the whole lot a bit lackluster.
That isn't to say there weren't a few diamonds in the Southwester rough, but mostly this was an audition show that had you wondering if any of the highlights would even move on past Hollywood Week.
Luckily, even when the auditions were lacking, we were treated to a heavy does of
Neil Patrick Harris
as judge. He did such a good job, that the producers only tacked on two commercial breaks worth of
Joe Jonas
.
Thanks goodness for that, because NPH makes any show better. He probably would have even been good on "
The Wire
".
And now, on with the recap. . .
The Three Best Auditions
3. Kimberly
This was the girl who sang an original song that she apparently went back in time about 65 years to write. Needless to say, it was about as dated as a weather-damaged fedora. Lucky for her, she sang it with an excellent voice. Big and resounding with a smooth jazz flare. She also flashed some pop edges that made her throwback style of singing accessible to a modern audience. Even if Simon didn't like her.
Her performance also inspired one of the biggest manglings of grammar in the history of '
Idol
' judgment when Randy said, "Prove that man on the end that he should be watching you all the time." Ostensibly referring to Simon.
2. Dave
This was the guy with tourette's syndrome that magically vanished when he started singing. Kind of like a British accent.
Anyway, he sang "Bring It On Home To Me" with a honey-roasted chestnut of a voice. Deep and rich with an astounding bottom. He could make an excellent run in the competition if he sticks to the white soul route that he handled so smoothly in his audition. He wavered a touch at the end, but altogether it was a sterling audition.
1. Todrick
This was the guy who sang an original song that was more like a kindergartner's poem or a bad wedding toast than it was a piece of music. Amazingly, he sang it with an absolutely excellent voice. Smooth and effortless with a great tone, could make an R&B record in any decade with that voice. Plus, he had a very winning personality - that's a deadly combo for the competition in this contest.
The Three Worst Auditions
3. Dexter
This was the guy who strutted in like a drunken pigeon following his winking at the camera about 1500 times. He sang "If I Ever Fall in Love Again" and sounded like he had a mouth full of saltines. His voice actually wasn't awful, but his enunciation was simply atrocious. Randy summed it up best when said, "That looked like it hurt."
2. Julie
This was the girl who auditioned previously during the first season and had apparently lost a lot of weight since then (good for her). Unfortunately her voice didn't get healthy along with her body as she sang "Black Velvet" like a teenage boy going through puberty while simultaneously dealing with the death of his dog.
The saving grace of this audition was that it provide Neil a great forum to insult. First her victimized her sing - mocking the truncated script at the end, noting she must have run out of room - then he moved on to her repeated singing after being cast off saying, "Do you think that's gonna help? That's just annoying."
1. Vanessa
This was the girl who came in like a cheerleader on acid with the weird highlighter scribble of a shirt to match. Her song choice was "At Last" and she made a second choice - a bizarre one not to sing the song. Instead she just screamed it. Absolutely shouted it as loud as she could until she receded into the smaller notes. And how did she handle these sections? By singing? Of course not, she simply spoke them in a regular speaking voice. Plus, she kept flashing the attitude of an early-90s valley girl as she sang. At least she remained positive the whole time.
The Best of Simon
He started in on the first hopeful. She had a sign that read "This Is My Year" which Simon insisted was missing the word "Not" from its magic-markered prose.
Later on he told Cody in a quick-hit audition that, "I think the problem is you."
But he saved the best for Vanessa, making perhaps his best comment ever when he told her, "If anybody in my life ever asks me what my nightmares look and sound like, I'm going to refer to that."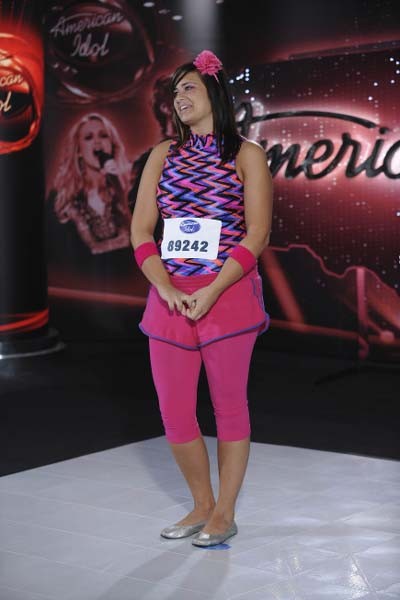 Dallas auditioner Vanessa Johnston. © Michael Becker / FOX
Other Random Thoughts
There were no auditions that judges hated and I liked, but there were plenty that the judges adored and I didn't get:
Erica
- the dominatrix child star - Her "Free Your Mind" was much more attitude than it was good singing. She actually sounded better when she sang the "Barney" theme song.
Megan
- the girl with a little brother and a blue tank top - she sounded like a kid trying to do an impression of the record. There was just too much effort in her voice.
Lloyd
- this was the guy from the projects who looked like Michael Oher - His audition never really exceeded being good karaoke. It was all right, just nothing spectacular. But the judges swooned anyway.
At this point it's time to make not of Simon continuing to say that four yeses equals a full house. I don't know who taught him poker, but technically a full house would be three yeses and two nos. Time for a new metaphor, Simon.
Also, that whole disagreement montage between Simon and Neil was the silliest bit of editing yet. There was no reason to believe that any of those disagreements happened on the same audition. Just boring to watch.
Finally, the best note I wrote to myself was a tribute to the worst guest judge in the history of mankind, Joe Jonas. Who I thought told Todrick he had star power, "with a deadpan that would make Bob Newhart want to inject him adrenaline.
Story by
Andrew Payne
Starpulse contributing writer