'American Idol' Chicago Recap: Fighting, Inspiration And Manti Te'o Jokes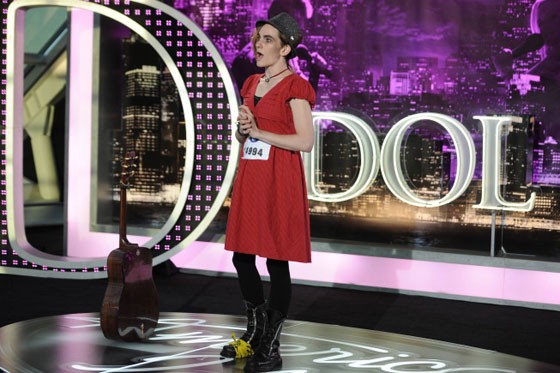 In round two, it seems the producers are getting their way.
Yesterday, I mentioned that the publicists are going to battle the producers this season over Mariah's battles with Nicki Minaj's. Despite the press and ratings, no publicist wants to see their client in a public fight on national television. Conversely, the producers know that as the ratings continue to diminish for Fox's flagship, this fighting may be the one thing that keeps viewers returning to one of about 55 singing shows currently on the air.
Nobody on the publicist end has gotten much of a shot at these early episodes and what we're seeing is clear and utter hatred onscreen. Nicki resents Mariah like somebody does their irritant of a boss while Mariah clearly has about as much respect for Nicki as anybody has for Manti Teo's credibility at this point.
Their compliments burn. When they agree it still seems like they're in a fierce quarrel. At some point they may leave Keith Urban a tattered mess of feathered hair and regretful tattoos strewn about the judges' table while Randy screams, "What kind of show is this!?" This could be the best chance we ever have for a murder on live television. Or at least a clump of hair
Enough about Mariah vs. Nicki II, it's time to make so many Manti Te'o jokes that I become more annoying than Nicki Minaj's fake British accent.
Three Worst Auditions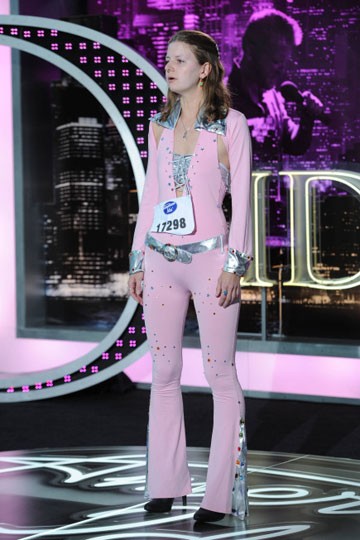 Mrs. Bush
This was the girl in the sparkling costume from a Xanadu drag show that completely clashed with her shy kitten personality. I mean, Manti Te'o's girlfriend spoke louder than this girl. Even Manti Te'o does.
Anyway, she sang Petula Clark's downtown in the classic bad singer voice that actually seems plausible. Meaning that her voice wasn't so terrible that it might have been a joke, but was certainly bad enough that if she started singing at a dinner party the vicinity within ear shot would emptier than Manti Te'o's girlfriend's hospital bed.
It's a hard sound to describe, but you know it when you hear it. That rare voice that might sound good in the shower with the stereo at full volume, but a capella might as well be a torture device. Yes, I'd have an easier time with a physical description of Manti Te'o's girlfriend.
Kevin
This is the guy who came in sporting a jean jacket from the set of a Billy Ray Cyrus video while showing us his skills with what seemed to be two pieces of kindling in a bizarre sort of martial arts that I imagine Manti Te'o practices to summon his girlfriend from the imaginary dimension in which she exists.
He sang "One Week", a fast song to be sure, but he sang it with the speed of Napoleon Dynamite being electrocuted while overdosing on amphetamines. If only Manti Te'o's girlfriend had access to what he was on, maybe she could have been awoken from her imaginary coma.
Though, if she saw this guy, she probably would have been scared-to-fake-death. His curly gesticulations are the stuff from a stop-motion student film that ends up getting the director committed. I kind of wish I could unsee that audition, but it will fake-haunt me like the fake-ghost of Manti Te'o's fake-dead girlfriend.
Iyesha
This is the bespectacled hopeful who claimed to be a professional dancer despite having moves that resembled nothing more than Manti Te'o's teammates inevitably awkwardly shuffling out of the locker room every time he started about "The love of his life". I really don't know what type of profession employs dancers like that. Even a strip club would send her to Arthur Murray.
She sang an Ashanti song. That is, she started to sing one. She took about fourteen seconds on each note. Getting about four lyrics in before the judges mercifully pulled the plug on her to end the misery, like Manti Te'o's girlfriend's fake family did to end her fake misery.
Sadly, this was all too real, and if they hadn't stopped her, she may have finished the song by now! But I doubt it.
Three Best Auditions
Isabelle
This is the fifteen-year-old whose parents started playing Elimidate with the camera crew for some reason.
She decided to duet with Keith Urban on the rapiest holiday song of all time: "Baby It's Cold Outside". Keith wasn't much, but Isabelle brought a crazy jazz tone that made her sound like she'd been burning Marlboros for the last 35 years. And I mean that in the best way possible.
I don't know if she can maintain that on a bigger stage, but in this intimate setting it was really stunning. Though hearing her duet by herself once Keith ran out of lyrics couldn't help but make me think of Manti Te'o and his girlfriend singing this song…
"I really can't stay"
"Baby it's cold outside."
"I'm really not real."
"I want to win a Heisman tonight."
"I don't exist."
"But it's a great story."
"Because you're my fake girlfriend."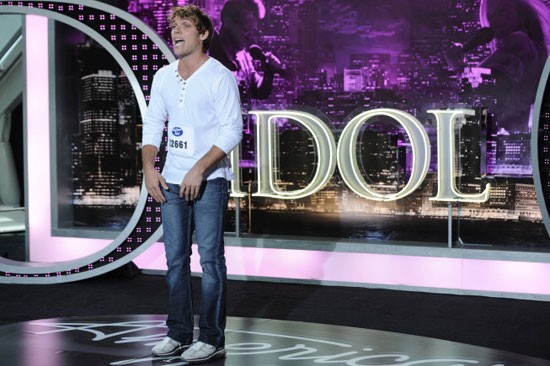 Johnny
This is the returning contestant with the angel eyes that and doughboy face that made me question the existence of my heterosexuality in a way that most of us are questioning the existence of Manti Te'o's sanity.
He rocked out on "Try a Little Tenderness" with an easy and fun vibe that complimented a cool soul voice that just screamed star power. He had the judges eating out of his hand, particularly Nicki who wanted to turn him into her imaginary boyfriend and lie to the press about him for months.
Wait? That's not the way healthy relationships work? Coulda fooled me.
Kez Ban
This is the girl (I think?) whose current profession (well, not really) is that of an amateur fire performer with some heavy doses of androgyny thrown in.
She sang an original song. I'd never heard it before, but about five seconds in, I wanted so badly for her version to be on Spotify so I could listen to it as for as much time as Manti Te'o spent on the phone with a person who didn't exist.
This might be the first actual artist we've seen on the show since Lilly Scott. Somebody who actually brings a touch of creativity and a completely unique sound to the show rather than just dressing down with a guitar and having the judges fawn over her like Gene Wojciechowski did a story about something that didn't exist.
Wait. Nobody could make anybody fawn like that.
Best of Randy
"I feel like I'm at a bad auction and Kevin just tried to sell me an old motorbike that I don't want." – describing Kevin's speed singing.
"I actually hated that." – to a random reject
"What kind of junior high is this?" – trying to interrupt a tiff between Nicki and Mariah
"Do you sing in the theater? Is the sound off?" – to a musical theater-trained hopeful
What did everybody else think? And please, leave comments in Manti Te'o joke form.