'American Idol' Bikini Girl Pleads 'Not Guilty' to DUI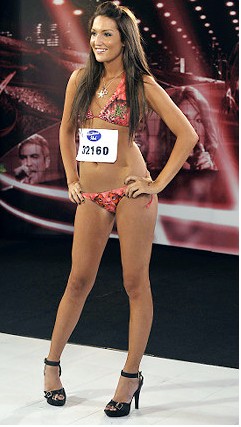 Katrina Darrell is most famously known for being the girl who auditioned for "American Idol" back in 2009 in nothing but a bikini and fighting with judge Kara DioGuardi over who was a better singer. While she was once "Bikini Girl," she may now be nothing more than a wannabe-washup D-lister who wound up in the DUI books.
Darrell was charged last month in LA with two counts of misdemeanor hit-and-run as well as one count of DUI. The charges happened after Katrina ran a red light and smashed into another car, then proceeded to flee the scene. This all happened with her mom riding shotgun. Later at the police station, she took a breathalyzer and allegedly blew twice of California's legal limit.
She plead "not guilty" to the DUI in court yesterday. She is due back on June 29th.