'American Idol' Banter: The Top 5!

Paula Abdul
typically isn't sober during "
American Idol
" broadcasts.
Michael Jordan
is the greatest basketball player of his generation. Starbucks has way too many locations for its own good.
Lil Rounds
and
Anoop Desai
were voted off "Idol's" double elimination Wednesday night.
What do those four sentences have in common? Each one has zero element of surprise.
It can be argued that
Allison Iraheta's
presence in the bottom two (not three, because Lil was unceremoniously booted without any waiting around) was a surprise, but I would argue that it didn't matter one bit. In fact, by pitting Allison against Anoop, the result was even less dramatic because there was
no way
Allison was going home.
Repeat: NO WAY.
The only contestant who would've given Anoop a run for his money was
Matt Giraud
, who did an ear-numbing rendition of "Stayin' Alive" on Tuesday's show. And I think we can safely say that Matt avoided the bottom two solely because he was the second-to-last person to perform. (Any arguments against that last statement will be ignored, so don't bother posting a comment about it.)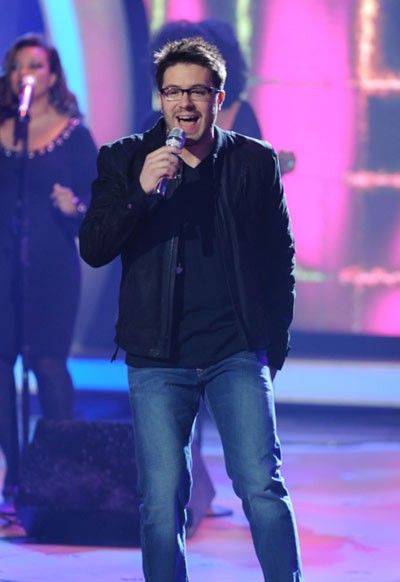 In a perfect world,
Danny Gokey
would've sat next to Anoop in the bottom two, but Danny is still about as bulletproof as Superman.
I digress. It doesn't matter who the second person was. Lil and Anoop had worn out their welcomes at Club Idol, and America did the right thing by summoning the bouncer.
So let's call the results show what it truly was: excruciatingly boring. OK, that's also not surprising. The surprising thing is hearing about how the results shows are getting better. Was anyone actually watching? Even
Starpulse's own Andrew Payne
gave props to the contestants' group number at the beginning of the show - a performance I would classify as "obnoxious" and "painful to watch."
And I'd rather not comment (but I must) on those has-beens from the disco era who made a complete mockery of "Idol," which is really saying something. Even hitting the fast-forward button three times wasn't enough to avoid the harmful side effects of watching
Freda Payne
,
Thelma Houston
, and KC (sans the Sunshine Band). Unfortunately, images of those three dancing around have been burned into my memory forever. "Idol" should think about flashing a warning sign before doing something like that again.
The results show wasn't a total waste, though. Now that Lil and Anoop are gone, we're finally entering the final stages of Season 8, and the competition is officially heating up.
Sure, Adam is the favorite to win, but a lot can still happen over the next month. The other contestants are no slouches, and with a little luck something crazy could go down. For the record, I don't see that happening, but reality shows have been rigged...errr...filled with surprises in the past to help with ratings and create a buzz afterward.
Stranger things have happened (see: Studdard, Ruben). Game on, Season 8!
Story by
Phil McRae
Starpulse contributing writer