'American Idol' Banter: Handicapping The Top 3

For those of you who remember my infamous
predictions from the Top 13
, I beg your forgiveness. For those of you who don't remember or didn't bother reading, let's just move on. On the bright side, at least I had Adam Lambert in the Top 3!
This time around, I'd like to do it differently. Instead of simply picking who I think will finish first, second, and third, I'm going to list five reasons why each of the remaining three contestants can walk away as the next "American Idol." Yeah, that's right, I'm implying that Adam isn't a lock, regardless of whom he faces in the finals.
If he gets there...
WHY DANNY GOKEY CAN WIN
1)
Danny's absolute butchering of Aerosmith's "Dream On" was more than enough to get him sent home this week, but it didn't happen. If Danny can survive a performance
that
bad, who knows? He certainly has a huge voting contingent backing him up.
2)
He has the best background story by a wide margin. And by "best," I mean people are connecting with the emotional loss of his wife at such a young age. Some people believe he's taking advantage of that too much by looking upward after performances and whatnot. I happen to think those people are the scum of the Earth. Give the guy a freaking break, losers.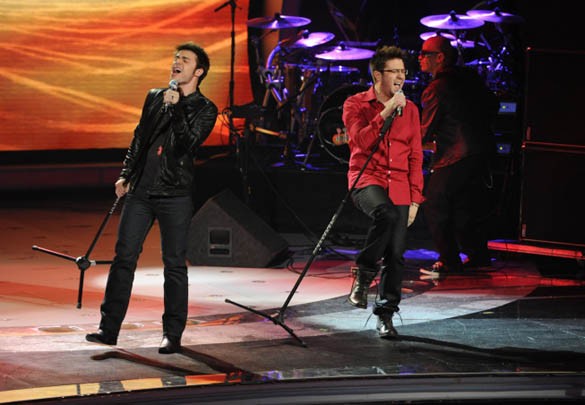 Kris Allen (L) and Danny Gokey (R) perform together on AMERICAN IDOL on FOX. ©2009 Fox Broadcasting Co. CR: Ray Mickshaw/FOX
3)
Have you ever met anyone who doesn't like
Michael McDonald
? Danny is an updated version of the soulful crooner, and that type of singing is imminently likeable. In fact, Danny could probably record what would become the best-selling Christmas album of all time.
4)
Danny is memorable. People know what he looks like, and that can probably be attributed to his ever-changing glasses.
5)
Remember a guy named
Taylor Hicks
winning? It can happen. Oh, and Danny is the only person who hasn't been in the bottom three (this week doesn't count).
WHY KRIS ALLEN CAN WIN
1)
Unless you're watching the show on mute (not a bad idea sometimes), it's hard to ignore the endless screaming from all the 12-year-old girls in the audience. Think it's a coincidence there are three relatively attractive guys left? Young girls vote, and Kris has teen-heartthrob written all over him.
2)
He plays the guitar! Even I can't deny how cool that is.
3)
Kris has a definite niche. He's in the mold of
Jack Johnson
,
Nick Drake
,
Jason Mraz
, and
John Mayer
- guys who think highly of themselves, are in touch with their emotions, and aren't afraid to whip out an acoustic guitar to impress girls.
4)
He's smart and knows how to play defense. Example: Singing "Come Together," a great song by probably the best band ever, was incredibly safe. As long as Kris didn't completely ruin it (which he didn't, by the way), enough people were going to vote for him just because he picked a Beatles song.
5)
Jamie Foxx
said he wants to record a song with him, which means he has total mainstream appeal. And Jamie Foxx is the ultimate authority on music, right?
WHY ADAM LAMBERT CAN WIN
1)
Have you heard him sing? He might have the best set of pipes in the history of "Idol."
2)
I've said it before and I'll say it again: Adam's ceiling is
Freddie Mercury
. If he gets put in the right situation, Adam could become an absolute rock-music powerhouse.
3)
He's kinda crazy. And that's good! Any bad thing that people say about Adam could be turned into a positive. Too flamboyant? Yeah, so was David Bowie. Deal with it. He's a rock star, for God's sake. Being a diva comes with the territory.
4)
Adam is the only remaining contestant with any real stage presence. I said that Danny is memorable, but it's for completely different reasons. Think all the way back to the Top 32. How many of Adam's performances can you remember? A lot. That's why Adam is this year's front-runner.
5)
He didn't get voted off the week that millions of viewers missed him singing "Mad World." That could've been "Idol's" biggest gaffe yet, but Adam survived, which really says something about his popularity.
It's going to be an exciting finish, and no matter what, this is probably "Idol's" best Top 3 ever. We're almost there, everyone!
Story by
Phil McRae
Starpulse contributing writer