'American Hustle' Is The Best Film Of 2013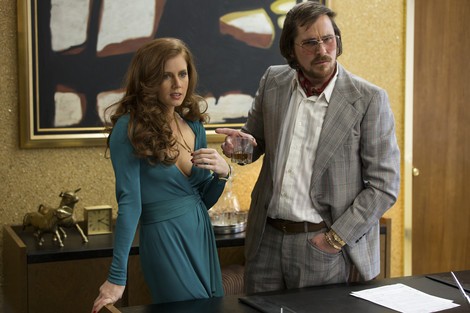 From the first second of the first scene, this film had me hooked.  I knew I was in for an incredible ride, and that's exactly what 'American Hustle', directed by David O. Russell ('Silver Linings Playbook') is… one fantastic cinematic ride.
Related articles: David O. Russell still can't believe he landed lost ELO tracks for movie, Amy Adams Enjoyed Her On-Screen Kiss With Jennifer Lawrence, 'American Hustle' & '12 Years A Slave' Lead 2014 Golden Globes Nominations
The film, which opens with the disclaimer, 'Some of this actually happened, takes place in the late 70's and 80's and is loosely based on the Abscam scandal, which led to the FBI arresting several congressmen for taking bribes. 
Christian Bale, besides being brilliant, is practically unrecognizable as con artist Irving Rosenfeld, who is is based on an actual con man, Max Weinberg. Bale gained 40 lbs for the role and wears a balding hair piece.
Irving is the owner of several dry cleaning stores, but he makes his money selling fake art and luring people into loan deals which are total scams. Even though Rosenfeld is a crook, there is something very likable about him.  Just ask Sydney Prosser (Amy Adams) a former stripper/con artist, who teams up with Irving.
It doesn't take long for the two of them to fall madly in love with each other.
Of course, this does not sit well with Irving's wife, Roselyn (Jennifer Lawrence, in her best performance to date) who lives the good life out in Long Island with their young son. As Irving and Sydney become more and more successful with their schemes, it's only a matter of time before they attract the wrong people.
The wrong people come in the form of the FBI, led by agent Richie DiMaso (Bradley Cooper) who will go to any lengths to be a superstar agent with perfect hair.
Irving and Adam are forced to go along with an FBI sting involving, a beloved Camden, New Jersey Mayor, Carmine Polito (Jeremy Renner) and it's here that things get totally out of control and start to unravel.
'American Hustle' written by David O. Russel and Eric Singer is a hilarious journey into a time when disco, coke, and teased hair were the rage.  
Rounding out the wonderful cast are Robert DeNiro, as mobster, Victor Tellegio, Elizabeth Rohm as Dolly, wife of Mayor Polito, Michael Pena, Louis CK and Michael Hernandez.
The film, which won the New York Film Critics award for best picture of the year, opens nation-wide on Friday, December 20, 2013.
I gave it five bagels out of five and I know John would have given it the same rating.
Check out our video for more of my thoughts.
Please SUBSCRIBE to our channel on YouTube and LIKE us on our Two Jews on Film Facebook page.
Thanks everyone and let us know what you think about this film.