'American Horror Story: Coven 'The Replacements' - What Exactly Went Down Last Night?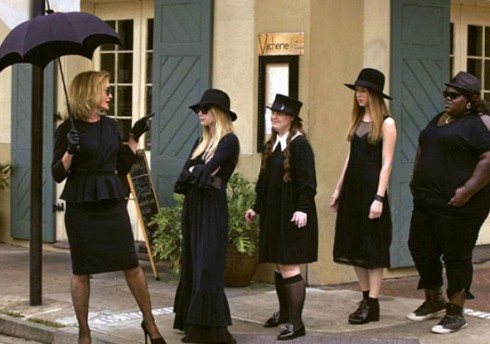 Hot guy's mom is a crazy church lady, after Madison uses her witch powers to throw the knife to the wall, the mother demands the they leave her house immediately. On the way out, Madison lights the curtains on fire, Nan looks at her, "I didn't know you could do that" Madison replies, "Me either". Does this mean Madison could be the next supreme? She can throw things and light things on fire - she has two powers - this isn't looking good for Fiona.
Kathy Bates was by far the funniest thing on last night's episode. She's starring at the TV…balling her eyes out as she watches President Obama deliver a speech. She's not crying because she's proud, she's crying because a black man is being named President. She doesn't believe it until Fiona walks in and tells her what she's missed over the last century.
Zoe returns Kyle back to his mother. She leaves them alone. Kyle's mother is crazy, after seeing him in the shower she asks him where his body came from. He looks bigger; he doesn't look like the boy she knew. And boy did she 'raise' him…she starts touching Kyle in all the wrong places and we see a better picture of Kyle's background. Later, when he can't take it anymore, he whacks his mother to death with an old sports trophy. Zoe visits him a few hours later, she sees his mother's dead body - and then sees him covered in blood.
Back at the house, Kathy Bates and Queenie are fixing dinner. Correction, Kathy Bates is now a house slave for Queenie….oh how the roles have been reversed. Queenie demands Kathy bake her a peach cobbler…while they're busy yapping away at each other, they hear a grunt coming from outside. Kathy Bates knows right away who it is. It's the half bull half man guy at her door!
Queenie yells at Kathy to go upstairs, she'll take care of this. Queenie steps outside, at first it looks like she's got everything under control - and then she starts looking afraid. She calls the animal over, and lures him into the backyard area. Then out of nowhere, she starts touching herself!!! I guess she tries to turn the bull on? It looks like he's feeling it, until the bull gets behind her…and then grabs her face. Cut Scene! Whaaaaaaaat?!?!!?
Finally, Fiona decides to spend some quality time with Madison. She finds out that Madison lit the curtains on fire and is immediately suspicious new girl might be the new supreme. They spend a night on the town getting hammered, except Madison is actually downing the shots and Fiona is just pretending to drink. [Side Note: Fiona visits her doctor earlier and finds out she has cancer, her immune system is shutting down, she's dying.]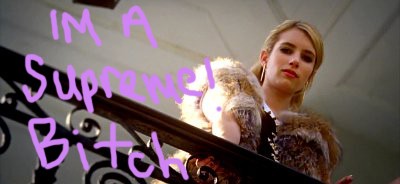 Then, the unthinkable happens. Fiona and Madison return home, they start talking and Fiona admits to Madison that she might be the next supreme. Madison laughs it off. Fiona grabs the knife (they're standing in the same spot where Fiona killed the elderly supreme) she begs Madison to kill her. She's already dying and wants to die. Madison calls her crazy she refuses to grab the knife, in the scuffle of screaming and pushing, Fiona slices Madison's throat and the young girl falls to the floor. Spalding is standing in the doorway, in the same spot - watching Fiona. She walks over to him, he hands her a tissue to wipe the blood away from the knife. She takes seat and says, 'We don't need a new supreme, we need a new rug.'
The End.
WTF? So wait are all the young witches except for Nan about to die? Is Madison really dead? What are your thoughts?