'American Horror Story: Coven' Recap: 'Fearful Pranks Ensue' On Halloween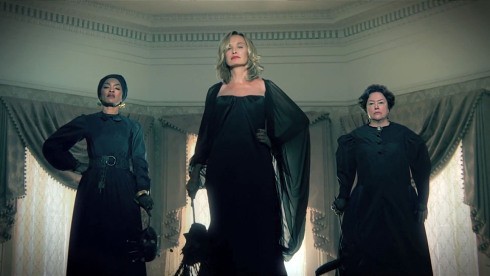 Frankenstein and Zoe are still at the house. He's all bloody, she wants to make him a tuna sandwich, but when she returns Frankenstein is gone!!

Nan gets a visit from her smoking hot neighbor. Love story in the making? I swear if any harm comes to Nan, I will be done with this show!

Marie is back to her weird snake ritual witch spell thing, we see a cemetery, and then we see a bunch of dead zombies rising from the ground. She's bringing back the dead!

Later, Fiona and Delia have a night out- mother and daughter style. They shoot back a few drinks, Delia asks for her mother's honest opinion on her husband. Fiona admits that she never liked him, she never believed who he was, he's a fake - and she's always wondered why Delia has never seen who he really is. I can't wait to find out what's really wrong with Delia's man.

Delia goes to the ladies room to break the seal. While she's washing her hands, a person dressed in all black approaches her from behind, Delia turns around, and the person splashes a clear liquid on Delia's face. Delia screams as the liquid burns her skin. Who the hell was that? Is that Marie's way of getting back at Fiona?

Finally, back at the mansion - Spalding is in his room- playing dress up. Yes, Spalding likes to dress up as a doll; in fact, he's got an entire room full of little plastic dolls. But there's one that really stands out, as the camera pans across the room, we see Madison's dead body, all dressed up, she doesn't even look dead. Spalding approaches her holding what looks to be a really old looking dress as if he's going to put her in it! What a weirdo!! (Side Note: In the flashbacks, we learn that Spalding admits his love for Fiona, and then cuts out his own tongue in front of her!)

And then, as if things weren't bad enough the doorbell starts ringing for the long awaited Halloween trick-or-treaters. Kathy Bates is all ready with her bowl of candy. She opens the door and hands some candy to some children. She closes the door, and when she opens it a few seconds later, there are three very real looking zombies who are starring right at her. Her face turns white; she drops the bowl of candy, and then closes the door. Then the camera takes us outside and we see hundreds of zombies walking right up to the front door of the mansion.

Honestly, what the hell is going on!! I just want to see Nan find her true love.

Thoughts people?

Join the discussion on Twitter and Happy Halloween!