'American Horror Story: Asylum' Finale: 'Madness Ends'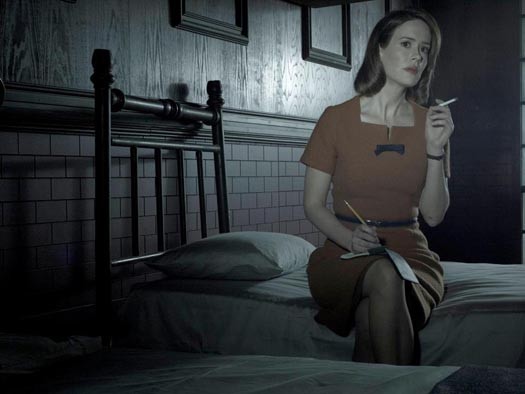 After the season finale of American Horror Story: Asylum, several questions still remained unanswered. So what do we know for certain? Lana had a second memorable meeting with her son, Johnny, Kit was taken by the aliens, Jude passed away in a happy home and Cardinal Timothy couldn't face the truth and in turn took his own life.
The story revolved around Lana Winters, the current big-time celebrity, during her interview for her Kennedy Center Honors win. After Briarcliff she went on to author 6 best sellers, produced revolutionary exposés and remains open about her girlfriend and sexuality. She hosts America Unmasked and remains a tough, innovative journalist. Although she's appreciative of her past, she refuses to talk about Bloody Face, claiming he's received more publicity than he ever deserved. Instead, she opens up about Briarcliff and what happened when she finally went back to look for Sister Jude. Lana elaborates that she went back with a film crew to expose the underlying, horrific conditions of the institution. She takes Jude out of the institution, insisting she'd come back for her. The reporter claims she doesn't remember this situation. It didn't happen. Production stops for a break and Johnny delivers her a glass of water. Yes, that Johnny Morgan. It turns out he was also the creature in Briarcliff who killed off the modern-day lovebirds, Leo and Teresa.
We learn that Lana went to visit Kit at his house in the country, cameras in tow. He refuses to talk with cameras around so Lana goes inside, off the record. Lana brings up Betty Drake, a name Kit's obviously familiar with. A few months after Lana's book signing, Jude was released to Kit's care. She moved in with Kit and his two children, eventually accepting the nickname of "Nana."  After a difficult detox and angry mood swings, Jude eventually returned to normal. Kit credits this to his two amazing kids, Thomas and Julia, who took Jude into the woods after one of her episodes. She came back a whole different person. "Grace was right, those kids are different," Kit says with a smile. Eventually, Sister Jude grew ill and the Angel of Death finally got to her.
After Jude's passing, Kit went on to lead a normal life. He remarried a woman named Allison, who Kit's kids adored. Lana became Godmother to Kit's children, who went on to do amazing things. Thomas became a Law professor at Harvard. Julia went on to become a doctor at Johns Hopkins. Kit was later diagnosed with pancreatic cancer. Although he went through chemotherapy, it was just a "waiting game." He disappeared shortly after and nobody was ever able to find his whereabouts. It turns out he was taken by the aliens.
Lana recounts cornering Cardinal Timothy Howard one night with a film crew as he was getting into his car. The former Monsignor of Briarcliff denied everything. Up to this day people still blame Lana for what happened shortly after – his suicide. Lana refutes these claims, admitting it was his fault for his lies. He was a "corrupt" and "diluted" man. The reporter senses Lana's rant has a lot more depth to it to be just about Cardinal Timothy. "I'm going to come clean about Maniac," she says. My child didn't die at birth. Instead, he survived. Although she didn't raise him, someone else did. She had remorse about the whole incident and tracked him down. She encountered Johnny on a playground one day as he was tormented by a bully. Lana stepped in to defend the child and although they shared a special moment, that was the last time she saw him.
Lana completes her interview and the crew heads out. She closes the doors, tidies up and makes herself a drink, but she knows she's not alone. Johnny appears and Lana provokes him: "Let's get this over with, shall we?"
Johnny explains the elaborate plan he had to kill her. He got on the crew by killing the guy who brought donuts in the morning. He continues to recount the experience the two had on the playground, insisting he then knew Lana was his mother and dreamed one day she'd come back for him. Eventually, he bought the Thredson confession tape off the internet and immediately took his father's side. Johnny then puts the gun to his mother's forehead. Lana confesses she gave up on Johnny to give him a shot at life and he'll never measure up to his dad. Thredson was a "monster." She cradles her son, calls him babe and holds his hand, insisting he's not to blame for this mess. After their tender moment, Lana takes the gun and shoots him in the head.
The episode ends with a flashback banter featuring Lana and Jude, when Lana first arrived at Briarcliff aspiring to interview Bloody Face. Jude warns her, "If you look in the face of evil, evil's gonna look right back at you." That's all, folks!
What did you think of the American Horror Story: Asylum finale? Do you think it was better, worse or equal to the first season?