"American Hardcore" Traces The Evolution Of Punk With Music By Black Flag, Minor Threat And More

Emerging in the early 1980s, hardcore punk championed independent thought and a f-you attitude - all with a fierce "do-it-yourself" aesthetic. More than just loud, fast music driven by primal aggression, bands like
Bad Brains
and
Black Flag
helped launch an underground social movement that tapped into the disaffection of misfit kids who came of age in the
Reagan
era. Filmmaker Paul Rachman and writer Steven Blush capture the spirit of this subculture with their documentary, American Hardcore, and Rhino Records delivers the hard-hitting soundtrack. "American Hardcore - The History Of American Punk Rock (1980-1986) - Motion Picture Soundtrack" is now available as a download at all digital retail outlets; the soundtrack will released at all physical retail outlets and at www.rhino.com on October 10.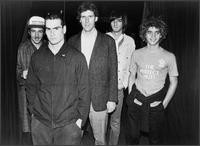 Inspired by his book "American Hardcore: A Tribal History," writer and producer Steven Blush teamed with director Paul Rachman for the documentary, "American Hardcore: The History of American Punk Rock 1980-1986." The film is being distributed through Sony Pictures Classics and opens in New York on September 22, Los Angeles and Irvine on September 29, and nationwide on October 13. Combining interviews and performance footage, the film reinvents the explosive energy of the movement while simultaneously suggesting how the music can only be read against the restrictive, repressive social consciousness of American life during "the Reagan years" - a political climate eerily reminiscent of today's. For more information on the film visit www.americanhardcoremovie.com.

True to hardcore's lean form, the soundtrack features 26 tracks and clocks in at a dizzying 37 minutes. The album contains music featured in the film recorded by the subculture's pioneers from different scenes across the country. The Washington D.C. scene is represented with icons Bad Brains and
Minor Threat
; the
Cro-Mags
rep the New York scene; and the Boston scene is showcased with tracks from
Jerry's Kids
,
Gang Green
, and SS Decontrol. The West Coast scenes in Southern California (
Black Flag
,
Circle Jerks
,
Adolescents
), Northern California (
DRI
,
Flipper
) and the Pacific Northwest (
D.O.A.
) are all represented as well. "American Hardcore" also spotlights other influential songs and artists such as "I Remember" by
MDC
(aka
Multi-Death Corporation
and
Million Dead Cops
), "Bad Attitude" by Articles Of Faith, "Think For Me" by
Die Kreuzen
, "My Minds Diseased" by Battalion Of Saints and "I Hate Sports" by
7 Seconds
.
Track Listing
1. "Nervous Breakdown" -
Black Flag
2. "Out Of Vogue" - Middle Class
3. "Pay To C$@" -
Bad Brains
4. "F#$@ed Up Ronnie" -
D.O.A.
5. "Red Tape" -
Circle Jerks
6. "Filler" -
Minor Threat
7. "I Remember" -
MDC
8. "Nic Fit" - Untouchables
9. "Kill A Commie" -
Gang Green
10. "Boston Not L.A." - The Freeze
11. "Straight Jacket" -
Jerry's Kids
12. "Boiling Point" - SS Decontrol
13. "Who Are You?/Time To Die" - Void
14. "Came Without Warning" - Scream
15. "Friend Or Foe" -
Negative Approach
16. "Bad Attitude" - Articles Of Faith
17. "Think For Me" -
Die Kreuzen
18. "My Minds Diseased" - Battalion Of Saints
19. "I Hate Sports" -
7 Seconds
20. "Brickwall" - Big Boys
21. "I Was A Teenage F$@#up" - Really Red
22. "I Hate Children" - Adolescents
23. "Enemy For Life" - YDI
24. "Runnin' Around" -
D.R.I.
25. "Don't Tread On Me" -
Cro-Mags
26. "Ha Ha Ha" -
Flipper
Listening Party:
Party Player
|
Real Audio
|
Windows Lo
|
Windows Hi
(Streaming audio and/or video links may expire without notice)