American Aquarium: Struggles Of A Small Band On The Rise

BJ Barham approached the microphone. With some confidence, yes, but perhaps not what he is used to having. "Hello, we're
American Aquarium
and we're from North Carolina," he announces with a nervous swagger to the sparse crowd; a statement he would repeat more than a few times this evening. Surveying the room, he sees no familiar faces; this is rare, especially compared to back in Raleigh. This wasn't a prime timeslot -- Sunday night at 11 pm -- as they are often accustomed to, but, still, it
was
New York City. Their set would be a good one, though Barham would not think so. So much so that his base player would look at him with disgust between every song as Barham apologized to the crowd. This was August of 2006, the five member band's first trip to New York. Only one would ever return.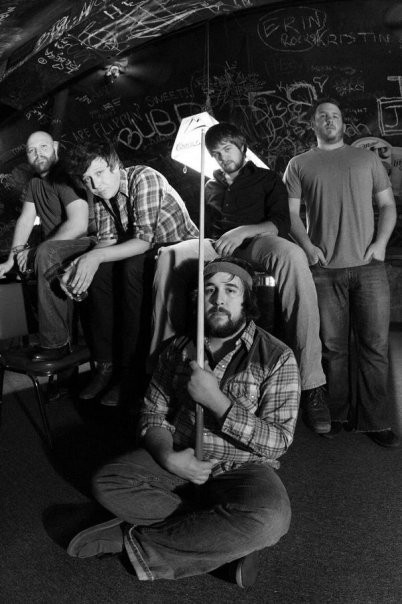 Almost two years to the day -- in 2008 -- Barham is back in New York. His band has the same name but it's composed of entirely new members. He has his feet -- wearing ever present cowboy boots -- resting up on a nearby chair as he tunes his guitar for a show. This wasn't the same singer from before -- at least in this city; there was a laid back confidence not displayed two years prior. Though, this was
still
New York and, almost comically, on this Sunday evening, they would be bumped from 9 pm until Midnight. The band would make the rounds to make sure the modest, but seemingly dedicated, New York fan base they had acquired would stick around after the time change. They did.
"I gave up my job, risked putting irreversible strain on my relationship, missed countless family functions and go months at a time without seeing friends. Even with all that, I never once thought about it as being a choice." -- Bill Corbin, American Aquarium Bassist.
But, that's the dream, right? Starting a band. Almost any night out amongst friends often ends with a drunken/high/cocaine fueled -- pick your accelerator -- pact that, yes, we
will
start a band. The reality is much more depressing. No money, constant lineup changes -- so much so that a song on their debut album, "Ain't No Use In Trying," chronicles this very phenomena -- nights wondering where your next bed is and, yes, those dreaded late Sunday night start times. How do you know who's in this for the long haul? "Anybody that's willing to get in the van for two months," Barham would say, "I usually assume that they're taking the job relatively seriously."
American Aquarium's sound changes from album to album. Their first release,
Antique Hearts
-- an album they admit, because of the new lineup, they don't really know how to play live -- has a traditional southern rock meets
Springsteen
tone to the album. The follow up,
The Bible Meets The Bottle
departs from the solemn, yet, mainstream tone; at times upbeat, at times downright depressing, with its backwoods country sound. The new release,
Dances For The Lonely
returns to the bands traditional sound; only, really, for the first time, considering the new, but stable, lineup. The new album title comes from, as Barham describes, "About being on the road all the time and missing people back home. And that's where the lonely factor comes in is when you have somebody back home and you're always on the road; it takes it's toll on any kind of relationship. The road is tough and it embodies that."
Barham admits that the band's sound depends on his particular mood, "The next record that I started writing is really slow and sad and depressing. It really matters what's going on in my life. This last record [
Dances For The Lonely
] was pretty much written on tour. Tour is a really fun time. The newest record -- I've been off the road for three weeks now -- it's been more of a somber record I'm writing next." When addressing the question of if it's hard promoting an album when that album's tone may not reflect his current mood -- such as what Springsteen is going through, on a much larger scale, with
Working On A Dream
, an album he is only playing three to four songs a night from on a tour promoting said album, "Usually Springsteen [an admitted inspiration for the band] is very good at being the voice for the country but I think he missed the mark on that one. It's not hard for me to recreate this feeling on stage -- I know some songwriters write from experience and some write from fiction -- all of my stuff is from experience. It's very easy to put myself back to where I was when I wrote those songs."
The end result: Sometimes this is the crux that defeats the dreams of most bands when the members see a different ending when they turn the page. Corbin admits,"I don't think anything in life is certain so I am not as focused on American Aquarium 'making it' as much as I am with making music that I love and believe in. We would gladly drive across country to play for one person who believed in us and related to our songs."
Barham would add, "Of course we want to be successful. We don't want to be radio big ... there's a difference between being big and successful. Like the bands like
Drive By Truckers
and
Wilco
who go out every night, play for a thousand people, and make a great living doing it." And the off chance that he would ever try to become 'The Rocker' on
American Idol
, auditioning while his band was home at home none the wiser, "I will guarantee that, in anybody's wildest dreams and nightmares, that will never f-cking happen."
BJ Barham approached the microphone. "Hello, we're American Aquarium and we're from North Carolina." Surveying the room, the cocksure gleam in the cadence in the young man's eyes resonating, he says, "I think I know every single person in this room." There would be no apologies on this evening. The mea culpa were replaced with stories from the road. A story about cheap beer was met with a round of Busch beer purchased for the entire band from a female fan. This was a prime timeslot -- Friday night at 8 pm -- which they are, now, accustomed to. This was March of 2009, another trip for the five member band from North Carolina to New York City. Every single one of them will return.
Dances For The Lonely is available through Last Chance Records and will soon be on iTunes.

"Mike's Pulse" is a column written by transplanted Midwesterner and current New Yorker Mike Ryan. For any compliments or complaints -- preferably the former -- you may contact Mike directly at miker@starpulse.com
or submit reader questions for celebrites to Mike on
Twitter
.