America To Be Honored With Walk Of Fame Star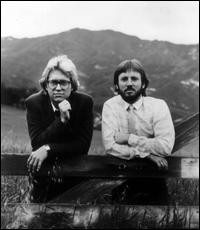 Country rockers America are to be honored with the 2,459th star on the Hollywood Walk of Fame.

Actor fans John Stamos and Billy Bob Thornton will induct the duo next month during the act's 40th anniversary celebrations.

The star will be located outside Hollywood's Musician's Institute, close to the plaques of of Al Jolson, Hal David, Rush, Motley Crue, Ozzy Osbourne and Journey.