AMC Greenlights 'Goodfellas' TV Series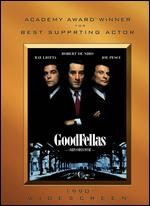 A TV series based on Martin Scorsese's gangster classic Goodfellas has been given the go-ahead by bosses at U.S. network AMC.

Rumors circulated back in 2010 that a TV version of the hit 1990 movie was in the works following the success crime drama Boardwalk Empire, and now writer Nicholas Pileggi, who created the original screenplay, has officially signed on to pen the script.
 
Goodfellas producer Irwin Winkler and his son David are also attached to the project, according to Deadline.com.
 
The storyline is set to follow Ray Liotta's mobster character, Henry Hill, throughout his early years and serve as a prequel to the film.
Casting for the series has not yet begun.