Amber Rose Proclaims Her Love For Wiz Khalifa With Tattoo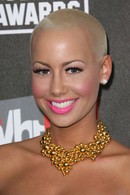 Model Amber Rose has permanently declared her love for rapper boyfriend Wiz Khalifa by having his name tattooed on her finger.

The curvaceous beauty, who previously romanced Kanye West, has been dating the Black and Yellow hit-maker, real name Cameron Thomaz, since last year.

She recently marked their union with a tattoo, and she's shown off the inking of the word 'Cam' on her Twitter.com page.

Alongside the picture, she writes, "I want his name tatted (sic) on me a million times. He's a dream come true... He's my Angel."