Amber Riley Says Camera Flashes Made Her 'Dizzy' & Faint On The Red Carpet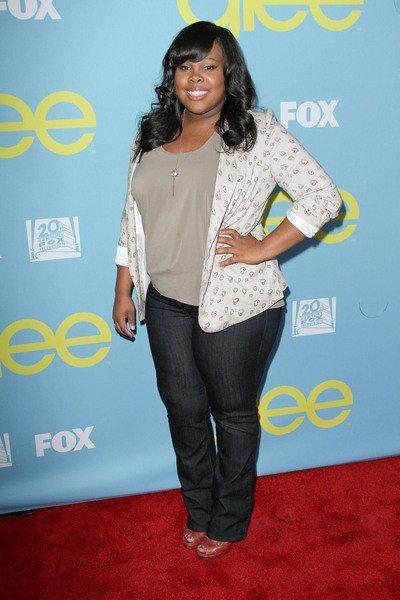 After collapsing at a Hollywood event on Tuesday, "Glee" star Amber Riley took to Twitter to reassure fans that she feels fine and "got a little dizzy" from all the photographer's flashes on the red carpet.
She also insisted she's not pregnant, doesn't have an eating disorder and isn't battling diabetes.

The 26-year-old attended a screening of her Fox TV show at the TV Academy of Arts and Sciences in North Hollywood when she fainted in the middle of a interview.

In a series of Twitter posts yesterday she wrote, "Lol. Let me stop the rumor mill right now. I'm not pregnant! Yes I'm black but I don't have diabetes, I don't starve myself to fit clothes; I buy clothes to fit ME not vice versa, I DO NOT DIET; I eat right and exercise!

"I love myself waaaay more than I like my career. I would never ever put myself in harm's way to mirror any 'image'."

"Come on ppl (people). Get a life. I did get a great laugh this morning reading all the BS (bulls**t) though."
"Hey guys, I'm okay :) I got a little dizzy from all the photog flashes! You'd think I's be used to it by now, still a red carpet amateur I guess. Gonna get checked out but I feel fine. Thank you for all the concern and well wishes."
"I'd also like to thank the photographers for being do professional and not taking photos of me on the ground. I truly truly appreciate it. Could have been super embarrassing."
Her final tweet about the event was: "Me and naya [Rivera] were joking around about the rumors why I fainted and I made that statement and she said it sounded like a Rihanna tweet LOL."