Amber Heard Sparks Engagement Rumors After She's Spotted Wearing Large Ring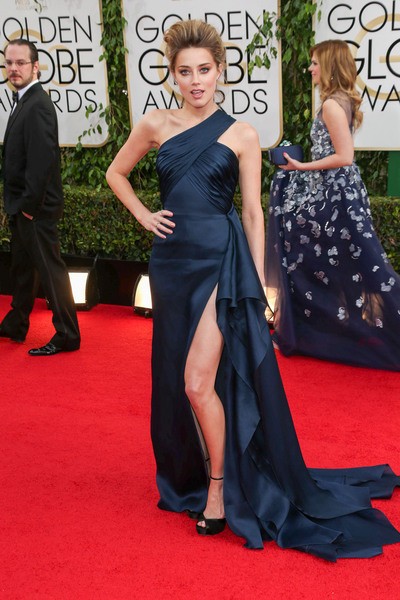 Amber Heard teased her sexy legs on the red carpet of the Golden Globes Sunday night in a midnight blue Atelier Versace gown with a slit that went all the way up to her waist.

Perhaps she was inspired by Angelina Jolie's legendary one bare leg look at the 2012 Oscars that spawned the term, "Jolie-ing."

Amber, 27, who has been dating Johnny Depp, 50, sparked rumors earlier this week that the couple is engaged after she was spotted with a large ring on her wedding finger as she left a Los Angeles restaurant Monday night. As she left the restaurant she covered her hand to keep it hidden from the waiting cameras, according to E! News.

We find it hard to believe that they're engaged after dating for such a short time, as Depp was married once in th eearly 80s for a short time. He split from longtime partner Vanessa Paradis in 2012 after 14 years together. They have two children together, but were never married.