'Amazing Spider-Man 2' Tops Box Office, But Can't Beat 'Captain America: The Winter Soldier'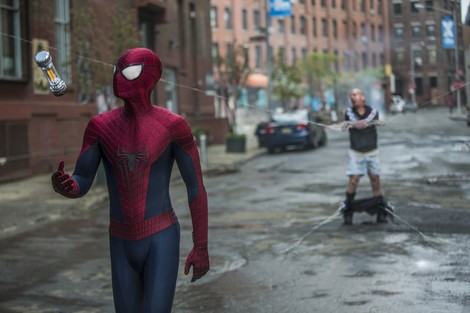 Captain America: The Winter Soldier still holds the crown for best opening weekend for a comic book film this year, but it got a good challenge from The Amazing Spider-Man 2.
Sony Pictures is estimating a $92 million weekend for the web-slinger's flick, only three million behind Chris Evan's Marvel movie.
However, it's hard to complain when you make just below $100 million and beat your closest competition, The Other Woman, by about $80 million. The Other Woman took $14 million at the box office, Heaven is for Real took third place with $8.7 million, Captain America remained in the top 5 with $7.7 million, and Rio 2 rounded it out with $7.6 million.
The first Amazing Spider-Man made $62 million its opening weekend, but that was after its July 4th release on a Thursday. It made a total of $262 million in the United States, and Sony hopes the sequel surpasses that number.
The Amazing Spider-Man 2 won't arguably face any competition until Godzilla comes out on May 16 and X-Men: Days of Future Past arrives a week later.