'Amazing Race' Contestant Gets Hit In The Face With Whole Watermelon (Video)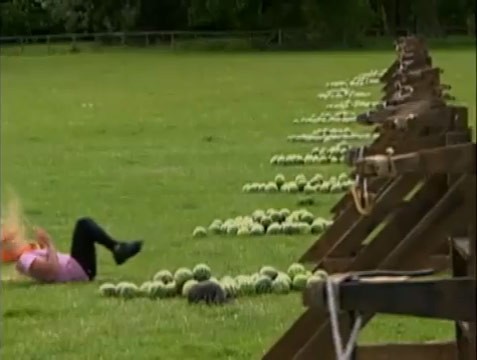 It seemed like a relatively harmless Amazing Race challenge at the time: launch watermelons with a giant slingshot and try to hit stationary targets. Unfortunately for Claire Champlin of the Home Shopping Network team, she inadvertently made herself one of the targets.
As a teaser for the upcoming season premiere on September 29th, CBS shared this clip of what appears to be a Roadblock challenge. After Claire launches watermelon after watermelon at the target, she concentrates and aims for another shot while lying down on her back. As she lets go, the watermelon gets trapped in the loading band and swings back, launching the watermelon back at her face in an explosion of red. Luckily, that red was the fruit.
Claire immediately says she has one of the worst headaches in her life - surprisingly, she looks fine otherwise. Brooke Roberts, her partner in the race, tells her: "You have to finish!" Roadblock challenges in the competition allow only one of the two-person teams to complete, and they may not switch at any time. So can Claire finish the challenge? You will have to tune in September 29th on CBS.