Amanda Seyfried Turns 'Red Riding Hood' Into A Mean Girl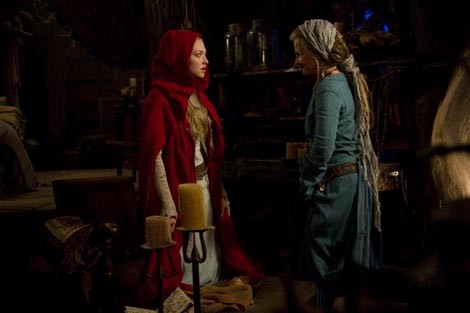 The new movie version of Red Riding Hood is a modern update of the fairy tale. It's still set in a medieval village plagued by a wolf, but Red Riding Hood is all grown up. She's not little, she's a young adult. Amanda Seyfried appreciated the chance to bring new life to the title role.
"I separated from the usual damsel in distress which is in most fairy tales, to somebody that's completely not in distress at all," Seyfried said. "She's this young, strong female that's going through her life and realizing her sexuality and kind of trying to navigate herself through young adult life in this medieval village. So that's how I kind of wanted to start playing it. Of course, she's the heroine in the movie. It centers on her so she needs to have balls. That was really attractive because I like playing women that have just no fear, especially in the circumstances. She's pretty brave."
Since her popular role as a high school "plastic" in Mean Girls, Seyfried has been a romancer in movies like Mamma Mia!, Dear John and Letters to Juliet, even a seductress in Chloe. Red Riding Her is a modern day romance, even in the medieval fantasy.
"We added majorly contemporary elements to it like a love triangle and the coming of age element to it. It's very contemporary how she's dealing with her parents and the man she loves and the man that she was [betrothed to]."
Seyfried still wears the red hooded cape though. You've got to have that.
"Putting the cape on for the first time, it was kind of a big deal when the cape came onto the set because it's its own character because it's the most iconic piece of the story. Then after a while it wasn't really a big deal. I just got sick of it because it's really heavy. It was so beautifully designed. It took a lot of time to make that cape really beautiful."
Red Riding Hood opens Friday.
'Red Riding Hood' Los Angeles Premiere Photos