Amanda Seyfried Splits From Real Estate Agent Boyfriend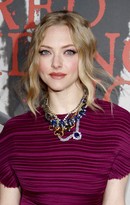 Mamma Mia! star Amanda Seyfried is single again after splitting from real estate executive Andrew Joblon at the end of last year, according to reports.

The 26-year-old actress, who has enjoyed much-publicized romances with Ryan Phillippe and her Mamma Mia! love interest Dominic Cooper, celebrated the New Year alone, according to Life & Style magazine.

And sources tell the publication, "They're definitely over. He celebrated New Year's Eve in Aspen, Colorado and she wasn't there! (The split) happened gradually over time. They still talk... (and) they are on great terms."

A request for a comment from Seyfried's publicist was not returned by press time.