Amanda Seyfried & Sharon Stone Heat Up The Las Vegas 'Lovelace' Premiere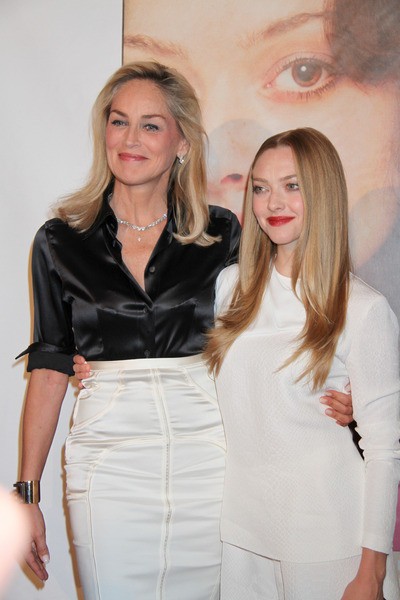 Amanda Seyfried and Sharon Stone were sexy and showstopping at the "Lovelace" Las Vegas premiere over the weekend. Seyfried, 27, wore a short and simple white frock, while Stone, 55, showed off her curvy figure in a white pencil skirt and black button-down blouse.
In the upcoming film, Seyfried portrays late porn actress Linda Lovelace, who became a legendary adult film star in 1973 hardcore flick "Deep Throat."
Seyfried recently told GQ magazine that she saw her first XXX film when she was about 6 years old.  She recalled, "It was funny, but it was also like, so, so, so wrong."
She also admitted that she worried about her dad seeing her naked on the big screen. In a press conference before a screening of the film last week, she told reporters: "I don't want my dad to see my naked body ever... I don't have problems with him seeing me in violent situations. In sexual situations, it's a little tough, but it's more just the nudity."
The biopic centers on Lovelace's transformation from the daughter of religious parents to an international erotic sensation. The film hits theaters on Aug. 9.
Check out more photos from the premiere...