Amanda Leighton: 'I've Had Some Really Good Luck With TV'
It's always the nice ones that end up playing the best villains on TV. Amanda Leighton, who recently played the scheming Wendy Capshaw in the third and final season of ABC Family's Make It or Break It, is much sweeter than her fictional alter-ego.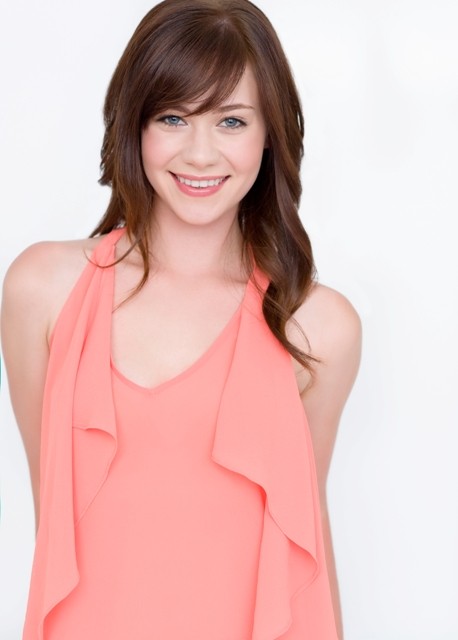 "I'm not that bad. I'm not peppy like Wendy in real life," she said with a laugh during a recent chat, but added, "I've got a bit of an edge to me."
Make It or Break It wasn't Amanda's only TV role; she's had quite a few small-screen parts, including shows like Grey's Anatomy, Criminal Minds, Six Feet Under and another ABC Family series, Pretty Little Liars.
"I've had some really good luck with TV," she told me. "I love playing the same character and seeing the development of my characters and what happens to them. The one thing I like about TV is you have your story arc and you see the character slowly developing throughout a series."
While she loved playing Wendy because it was the longest she'd had to work with one character, another favorite role was her Grey's guest appearance. "I loved working on Grey's Anatomy, just because it was like heavy prosthetics and stuff," she said. "That was really cool to work with. It took me three hours in the makeup chair. That was a really cool experience. When you have all that makeup on, you feel more [like] that character.
"And I watch Grey's Anatomy, so it was really cool to work with all the people. That first rehearsal [when] I met everybody, I felt like 'I'm inside the TV right now.' It was a little bit surreal!"
But although she loves television work, she conceded, "Of course the grass is always greener on the other side. I'd love to break into more film just because I haven't seen too much in that realm yet." She's recently wrapped the flick Divorce Invitation, in which she plays the younger version of the main character in flashbacks.
What would be Amanda's dream part to play in a feature film? "I want a really dramatic role. Kind of like Girl, Interrupted. The really emotional, compelling, gut-wrenching role," she decided, then added, "And a comedy after that. I want to be the action hero. I want to do everything."
It's not a surprising response when you consider that her interest in acting stemmed from a love of film. "When I was little, I would just watch movies all the time," she explained. "I would sit in front of the TV and watch the same movie over and over again, and memorize the lines. I think probably the first movie that clicked with me was Jurassic Park and I was thinking, 'I could do that.'"
Amanda cites Meryl Streep as an inspiration for her still-developing career. "I love pretty much everything that she does," she said. "I like that you don't see her in the limelight a lot, but then she comes in and she'll do this amazing part out of nowhere, and then she's gone, and she comes back."
She's got plenty of time to work on some of her own aspirations, such as a guest spot on her favorite series, Once Upon A Time. That would certainly be the perfect addition to her already sizeable small-screen resume.
You can follow Amanda on Twitter (@MandyPandyLeigh). For more from Brittany Frederick, visit my Starpulse writer page and follow me on Twitter (@tvbrittanyf).
(c)2012 Brittany Frederick/Digital Airwaves. Appears at Starpulse with permission. All rights reserved. No reproduction permitted.