Amanda Bynes Tweets Topless Photos, Tells Jenny McCarthy To Shut The 'F' Up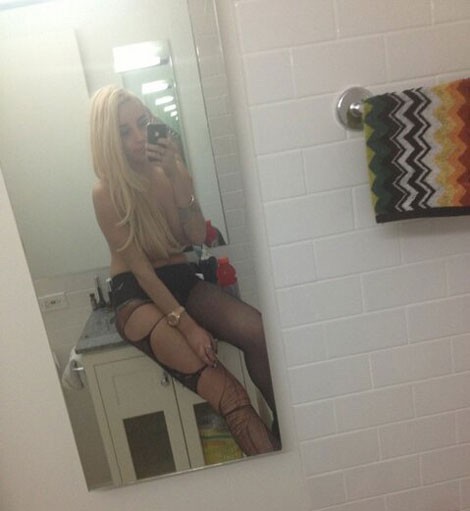 The odd life of Amanda Bynes continues to get more bizarre. On Wednesday, Jenny McCarthy suggested police had been called to the actress' home in New York.
She tweeted: "Police are at Amanda Bynes' house. I hope they get her help. Enough of this circus. She needs help." McCarthy then added, "It came from a publicist but if no one can back it up it could be wrong."
In response to the speculation, Bynes attacked McCarthy on Twitter on late Thursday morning, writing: "@JennyMcCarthy you're ugly! Police weren't at my house old lady! Shut the f--- up!"
She followed this by: "@jennymccarthy I need help? What are u talking about? Aren't u 50 years old? I'm 27, u look 80 compared to me! Why are you talking about me?"
McCarthy then tweeted: "@AmandaBynes sorry girl. Looking out for ya," to which Bynes wrote: "@JennyMcCarthy thanks! I'm sorry I offended you! You're beautiful! I was lying! I'll delete our tweets!" (She did delete the tweets, but you can see them in the screenshot below.)
Prior to that, Bynes uploaded a couple of topless selfies. She's in what appears to be a bathroom, sitting on a cabinet wearing nothing but ripped up pantyhose. She captioned one image, "Long hair don't care," and the other one, "Rawr!"
Bynes also retweeted a recent interview from InTouch magazine in which she insists she's not crazy. She explains, "I have no clue [why people say I'm insane]. Every time I've heard it, it came from an ugly person's mouth, so I don't care. She adds, "The only ones lying about me having a mental illness are people I don't talk to."
The "Hairspray" star has been making headlines over the last few months due to her erratic behavior. She posted videos like this online, got double cheek piercings, wrote sexually-charged tweets about Rapper Drake, and publicly announced her intention to sue anyone who attempts to slander her image.