Amanda Bynes Claims She Got Breast Implants And Had Them Removed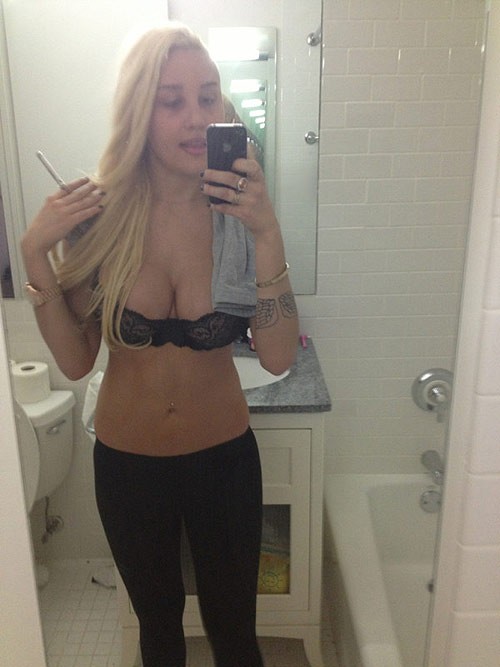 Amanda Bynes has revealed that she recently underwent another plastic surgery procedure, this time to have her breast implants removed.

In an email she sent to RadarOnline.com, the former teen star claims she had the initial surgery in May but she didn't like the way they felt and had them removed earlier this month.

"I got my breast implants removed," the 27-year-old actress wrote. "They were uncomfortable… I prefer them out."

While the star did post a few images of her chest to Twitter last month, she never mentioned having any other procedures done aside from her nose, which she says she had done twice in the last two months with another planned this week.

On Monday Amanda said she was "between" surgeries on her nose after being spotted in an Atlantic City, New Jersey, hotel jacuzzi; and on Wednesday revealed her next appointment with the knife.

"I'm having my next surgery on Saturday!" she tweeted.

She also explained that a "birth defect" has been bothering her lately, which she also had corrected.

"I was born with a webbing in between my eyes," she said. "That was a birth defect that I had surgically removed! I've never been more excited! Now I... need a few more surgeries to shave the bridge down to correct the rest of my nose so I can start the next chapter of my career! Music!"

Bynes also says that she's been acting strangely lately because just wants the media to stop using old photos of her with all of her blemishes.

"I was just embarrassed to share the fact that I had a birth defect. As soon as I had it removed I couldn't wait to talk about it!" she exclaimed. "I wanted to share my story with you to prove that I'm not crazy, I was just embarrassed. Surgery is a complete miracle for me - nothing... can hold you back from living out your dreams. There's a surgery for everything that's wrong with you!"

Radar also reports that an "insider close to Bynes" said that a tube got lodged in Amanda's breast while undergoing the removal surgery, but she's doing fine now and said, "They look amazing without the implants."

We're skeptical.