Amanda Bynes: A Brief History Of Her Past Troubles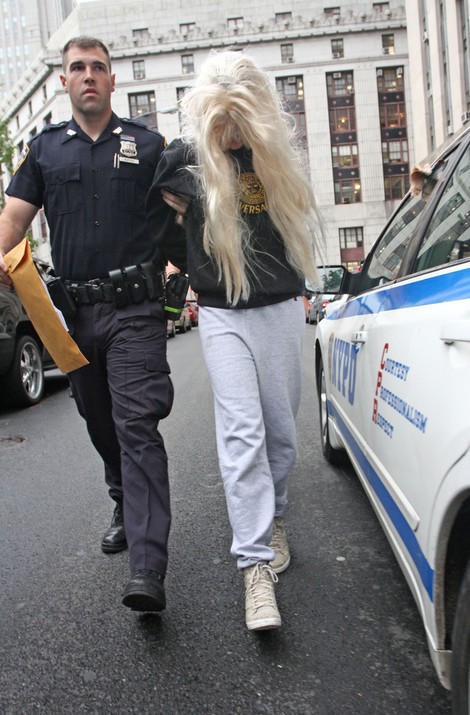 When Lindsay Lohan's asking why you're not in jail, it's probably time to be concerned.

Such is the case for Amanda Bynes, who was arrested early Friday morning at her New York City apartment for possession of marijuana along with reckless endangerment and tampering with evidence for throwing a bong out of her 36th floor apartment.

Amanda was sent for a psychiatric evaluation at the Roosevelt Hospital before being booked at the police station.

The incident is just the latest in over a year's worth of run-ins with the law for Bynes, whose woes began on March 7, 2012, after being stopped by police for talking on her phone while driving. She also left the scene before the cop could finish writing her ticket.

Less than a month later, Amanda was arrested for DUI after hitting a police car in West Hollywood. She was formally charged in June, and subsequently asked U.S. President Barack Obama to "fire" the officer who arrested her.

"Hey @BarackObama... I don't drink. Please fire the cop who arrested me. I also don't hit and run. The end," she tweeted.

Four days after her April 6 DUI, Amanda hit a car on Los Angeles' 101 freeway and left the scene. She denied the story, and less than a month later was pulled over for sideswiping another car.

Three months later, on August 6, she rear-ended a BMW. The incident was called a hit-and-run because she left the scene without providing insurance information to the other driver. Two weeks later she was rear-ended by another driver, but exchanged information. The police were not involved.

Amanda was pulled over once again on September 9 for forgetting to turn on her headlights at night. Three days prior to the stop her license was suspended. The officer who pulled her over never checked. A week later an officer did check, though, as she was stopped by police again and found to be driving without a license. Her car was impounded.

Amanda's lawyer, publicist and agent then bailed on her.

Amanda moved to New York City sometime in November and returned to California to settle with the victims of her two (documented) hit-and-runs. A judge dismissed the charges against her on December 12.

Amanda managed to keep a low profile for the first quarter of 2013 until she started tweeting her new style, which included pierced cheeks and, soon after, shaving the sides of her head.

She also threatened to sue PerezHilton.com and Us Weekly over their negative coverage of her, and she subsequently issued a threat to any and all websites that publish unflattering photos of her.

In April she revealed that she has an eating disorder, despite looking quite healthy.

The former star of her own Nickelodeon variety series, "The Amanda Show," was then reportedly kicked out of a gym for smoking pot in the bathroom.

In May, In Touch Weekly magazine interviewed Amanda and published photos of the inside of her apartment. Amanda denied the photos were from her apartment, calling them fakes. She threatened a lawsuit.

And on May 23 police responded to a report of someone smoking pot in the lobby of her apartment building. They went to investigate and found Amanda in possession of marijuana.