Alyssa Milano 'Leaks' Sex Tape To Bring Attention To Crisis In Syria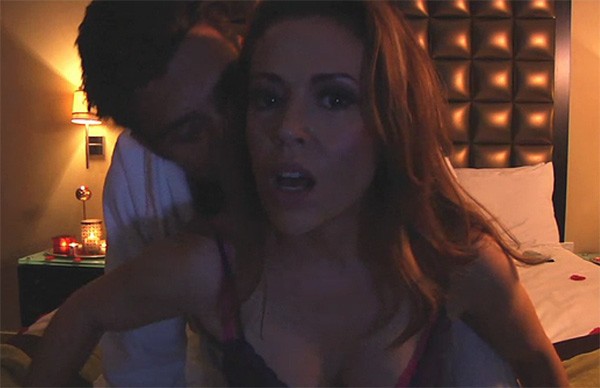 Alyssa Milano has a sex tape. The Charmed star revealed on Wednesday that she and an unnamed male companion vacationed in Cabo recently and taped their bedroom antics.

The scene was set with a classy hotel suite, rose petals scattered on the bed and floor, candles giving the room a romantic glow.

But when the time came for action, Alyssa bumped the camera she had just set up and it spun around to focus on... the nightly news, where an anchorman was relaying all the details about the current situation in Syria and the U.S. being at the doorstep of yet another war.

Of course, the video is just a gag for Will Ferrell and Adam McKay's comedy website Funny or Die!, but, like numerous others before it, it's meant to raise a little political awareness about a humanitarian issue.

Milano's video was made with the purpose of sending a message and getting people to see that there are some major issues going on in the world right now.

"I think it was a really fun way to get people to realize that there are important issues our country is dealing with right now," the actress tells website Mother Jones. "If people end up learning something about the crisis in Syria that's a good thing—even if I had to do a sex tape to lure them in."

So basically, Alyssa thinks we're all sitting around watching celebrity sex tapes and have no clue about the Syrian Civil War that's going on right now, currently puttin the government between a rock and a hard place on whether or not to order an air strike on the nation over President Bashar al-Assad's alleged use of chemical weapons.