Alyssa Milano Heats Up The Pages Of The July/August Maxim, Looks Amazing At 40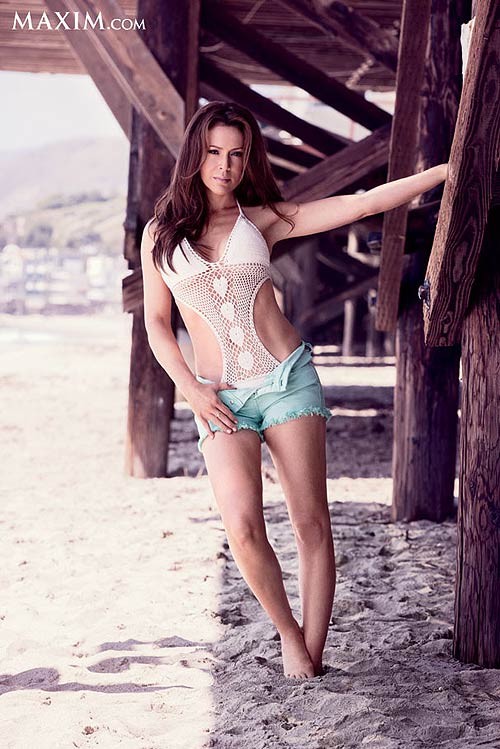 Alyssa Milano is still loooking sexy as ever despite passing the big four-oh last December.

The star of ABC series Mistresses shows that she can hold her own with the young girls in her new shoot for the Maxim magazine July/August 2013 issue.

A former child star, Alyssa has found much success as an adult with hit shows Melrose Place and Charmed, but she became a household name as Sam on 80s sitcom Who's the Boss.

"That was an era when TV child actors just didn't work after their show was over," she says. "I think Christina Applegate and I are the only two who maintained some sort of career path past the shows that launched us."

Milano also says that she was lucky to have a good upbringing compared to some of today's troubled young stars like Amanda Bynes and Lindsay Lohan.

"I have a great family, and I look at a lot of these kids who struggle in the industry and think they'd have struggled no matter what they did," she explains.
The sexy brunette, a huge baseball fan who has a successful line of clothing called Touch by Alyssa Milano, which sells women's team logo apparel licensed by all the major sports leagues (basically making her every man's dream woman), says that being a child star didn't have a major impact on her and she looks back at her time growing up on screen as something nostalgic.
"I don't really remember the specifics of it. People will bring up old episodes, and I'll be like, nope, don't remember doing that one. At. All. But it wasn't weird, because I didn't know any different," she explains. "You know, I went through puberty like everyone else; it only got embarrassing when the show would take what was going on with me and write it into the show, like, 'Samantha's First Bra.' It was like, OK guys, do we really need to do this? But what an awesome time stamp!"
As far as her latest TV series "Mistresses" goes, she explains that the title is a bit misleading.
"Honestly, after the first few episodes the title is kind of irrelevant," she says. "In the first episode my character cheats on her husband, but the rest of the season is about her dealing with the fallout."
Check out Alyssa's full pictorial and interview in the July/August Maxim and at
Maxim.com
.