Alyssa Milano Accepts Jay Mohr's Apology After He Fat-Shamed Her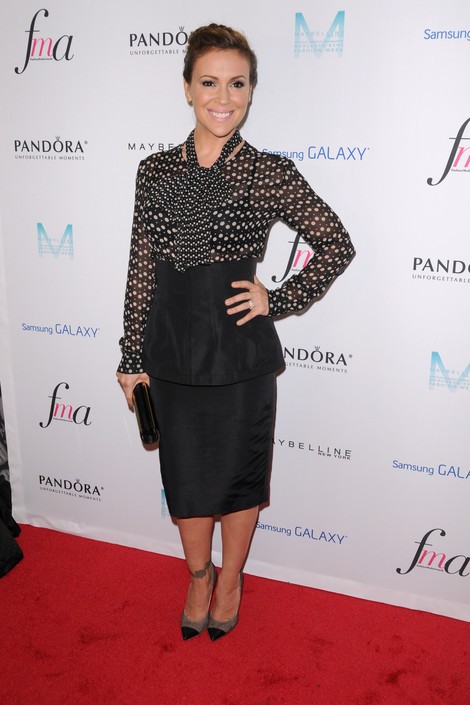 Alyssa Milano has proven that she has a lot of grace - and a sense of humor.
On a recent radio show, Jay Mohr dissed the actress while discusses a hosting gig at the NASCAR Sprint Cup Series Awards in Las Vegas.

"She was one of the presenters. ... She's very tiny. In height," Mohr said. "It seems like she had a baby and said, 'I don't really give a s***' ... I read it on her gut."

Mohr also called the former "Who's The Boss" star "Melissa what's her-name" and said, "Somebody sat in the director's chair and was not wearing Spanx and I was like, Jesus Christ."
Ouch!
Taking the high road, Milano responded on Twitter on Christmas, writing: "@jaymohr37 So sorry you felt the need to publicly fat-shame me. Be well and God Bless. Please send my love to your beautiful wife."
Mohr's wife, Nikki Cox, has often been criticized for her appearance with many believing she's had plastic surgery, including lip injections.
A week later, Mohr apologized on Twitter, saying he meant his comments as a joke.

He wrote on Thursday, "@perezhilton @alyssa_milano She's stunning. I mistakenly thought the absurdity of what I was saying would have ben taken as a joke. #fail."
Then on Friday, Mohr gave a more formal, long apology, writing on Facebook: "I am VERY sorry. Comedians have a hole on their insides that can only be filled by generating constant content that is, many times, improvised in the moment. Unfortunately, in rare instances, it causes irreparable harm."
"I had thought in that improvisational moment (incorrectly), that the incongruousness of my statements, when held up to the light of how beautiful [Alyssa Milano] is, would have been funny. IT WASN'T. Knowing that Alyssa (her family, friends, fans, and especially her husband) heard things that were hurtful, from my mouth, crushed me. She has always been one of the kindest, most caring and beautiful people this town has ever seen."
He went on, "I will not make excuses for what I said -- it lacked class and dignity -- and I regret that I ever said it. Although I immediately removed that segment from my podcast, it still doesn't change the results. I know full well how much words can hurt people, having seen my wife ["Las Vegas" actress Nikki Cox] get destroyed by the tabloids, and I am embarrassed that I didn't think before I spoke.
"Alyssa is an extraordinarily beautiful person -- both inside and out -- and I'm truly ashamed of the words I used. I didn't reply to her comments via Twitter because I didn't want to draw more attention to something as serious as this. Alyssa is a mother, a wife, an actress, and a class act that should always be celebrated. I am SO sorry. Sometimes comedians go to far. I went to far. I cannot change what I said, but I can assure you that my heart is broken that I hurt her. With the utmost sincerity, Jay Mohr."
Shortly after, Milano responded, "@jaymohr37 Thank you. Apology accepted. (She grunts while aggressively yet cautiously prying off her head-to-toe Spanx). #PassTheCookies."