Alyson Hannigan Fires Back At Pregnancy Rumors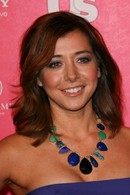 Actress Alyson Hannigan has sparked rumors she is pregnant with her second child after she was spotted sporting a belly bump during an outing in California.

The How I Met Your Mother star enjoyed a night out with her husband Alexis Denisof and their two-year-old daughter Satyana at the Malibu Chili Cook Off on Friday night.

Hannigan has sent gossips into a spin after photos emerged of her showing what appeared to be a fuller figure and baby bulge underneath a baggy jumper.

But the actress quickly silenced rumors with a candid explanation on her Twitter page.

"NO, I'm not pregnant! I just ate too much carnival food, that time of the month, hurt my back & couldn't suck my gut in, & need 2 do cardio!" she Tweeted; adding, "And I'm NEVER gonna wear that shirt again!!!"