Aly Michalka Gives Us An Inside Look At CW's New Show 'Hellcats'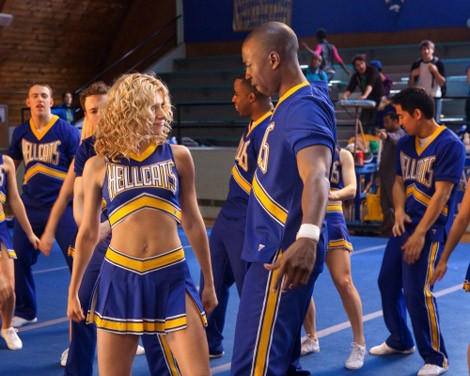 The CW's new series Hellcats takes on the cutthroat world of cheerleading. Even its stars are taking on edgier roles than before. High School Musical's Ashley Tisdale is a star cheerleader, and Aly Michalka of the teen duo Aly and AJ is a law student who has to join the squad to stay in school.
"I think it was a cool coincidence, and a coincidence I say in the real sense that we both just happened to come from a musical background and the Disney world," Michalka said. "That was not some genius person's idea where they were like, 'We are going to cast these two girls that have been in this area before.'  I think it was just something where we happened to be right for these roles, and we happened to fight for these roles really hard."
Michalka also appeared on Disney shows Phil of the Future. "Just me getting back into the TV world, as well as Ashley, was something that was new to us, and it was a fresh experience, and we were so willing to open ourselves up to that that I think it brought this excitement to filming the pilot.  It brought this freshness.  I think it just brought this magic that we all really wanted to make this work."
Tisdale plays Savannah, who may start out as Marti (Michalka)'s rival, but they soon team up to face bigger drama as a team. "I think that Savannah is a team player," Michalka continued. "If she obviously wanted to be the star of the squad, she wouldn't want to hire Marti to help them out.  But I think that she sees that there's something there in Marti that can help their team and help them get to nationals.  And there's this connection that our two characters have that I love just because I don't think you would ever imagine these two characters to be friends, but the thing that pulls them together is their passion for what they love to do.  For Marti, it's law, and therefore, she needs to be on a squad to get a free scholarship.  And for Savannah, it's making it to nationals.  So there is that common ground that they share together.  Their stakes are really high for the two of them."
The intense cheer squad routines you see will obviously be set to some fabulous music, but will Marti be called upon to sing too? "AJ would be kind of missing," Michalka said. "She wouldn't  be there.  No.  I think that it's also up to the writers and the producers as well to figure out how to fit that in.  I know that there is a storyline coming up where Marti does happen to perform in a very cool, relaxed, organic setting.  So we are ready for that.  But my music is very special to me, and I take it extremely seriously.  It's something that's sacred, that my career as an actor is separate, but when it's combined, that's awesome, too.  So it's all about a balance."
Hellcats premieres September 8 on The CW.