All The Details Of Ryan Reynolds And Blake Lively's Secret Wedding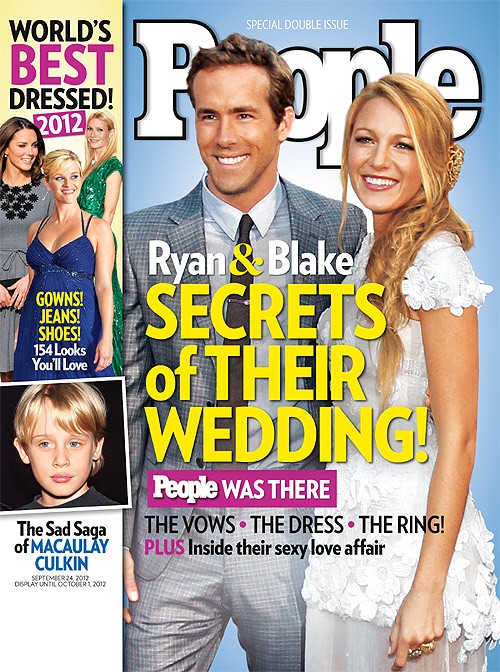 From their vow to 'make each other laugh' to the after-dinner s'mores, former Green Lantern costars Ryan Reynolds, 35, and Blake Lively, 25, tie the knot in a family-friendly, rustic affair near Charleston, SC. This week's issue of PEOPLE has the latest scoop on the vows, the dress, and the ring, and goes inside the year-long love affair of the Gossip Girl star and PEOPLE's Sexiest Man Alive 2010.

The celebration was a romantic blend of antebellum charm, whimsy, and Hollywood glamour, and the nuptials showcased the bride and groom's family-centric brand of warmth and fun. Which meant that chart-topper Florence Welch (of Florence + the Machine) and couture shoe designer Christian Louboutin – both close Lively pals – rubbed elbows with the sippy-cup set at the kid-friendly festivities. "Ryan and Blake wanted the event to look and feel like home," says wedding planner Tara Guérard. "We created the charm, elegance and magic of times past. It was a truly beautiful celebration."

Carefully overseen by the hands-on-bride, who worked with Guérard and the wedding staff of her friend and self-described "idol" Martha Stewart to plan the event, the festivities kicked off with a retro carnival-themed cocktail hour accented with parasols, balloons, and lights. "They're a fun couple who wanted to inject that into their wedding," says a source. Then as the sun went down over the nearby Wando River, a children's choir from the local First Baptist Church – singing Frankie Valli and the Four Seasons' "Can't Take My Eyes Off You" – serenaded the bride as she walked down the aisle at the mansion at Boone Hall.

Stunning in a couture Marchesa ball gown with a hand-draped silk tulle bodice with crystal and rose gold embroidery and carrying a bouquet of white and peach roses, peonies, and hellebores (groomsmen had matching boutonnieres), Lively "was radiant," says the source. "Her dress was very simple yet beautiful. She had small earrings, a delicate necklace and very natural makeup." Her hair mostly down, she went without a veil and was accompanied by bridesmaids in blush silk chiffon Marchesa gowns with crystal embroidery.

"When Ryan first saw her, his face broke into a huge smile that crinkled his eyes. They just stared at each other with absolute love. Their faces were lit up with the candlelight, and it looked like something out of a romance movie." During the 20-minute ceremony, the couple exchanged self-penned vows in which "they promised to support and love each other and to make each other laugh," says the source. The groom, in a Burberry suit with custom leather suspenders (his groomsmen also wore Burberry), "said he would treasure Blake; she said she would adore him. The whole time they were beaming." They swapped rings designed by Lively's pal, jeweler Lorraine Schwartz. (The next day, Lively was spotted sporting her ring: a whopping oval-shaped diamond.)

Although both stars had been in high-profile relationships before they fell for each other – Reynolds's nearly three-year marriage to actress Scarlett Johansson ended in mid-2011; Lively had recently ended a globe-trotting fling with actor Leonardo DiCaprio – "they knew early on this was it," says the source. "They have such an ease when it comes to their relationship," says someone who knows them both. "He looks after her, dotes on her, protects her, and she honestly just complements him perfectly."

More details on Ryan & Blake's wedding are featured in the 9/24/12 issue of PEOPLE; on newsstands now.



Special Double Issue: Best & Worst Dressed of 2012

The editors of PEOPLE magazine have chosen Gwyneth Paltrow as the "World's Best Dressed Woman" in this week's special double issue featuring 29 pages of the Best & Worst Dressed of 2012. "She doesn't do fringe," Paltrow's stylist Elizabeth Saltzman tells PEOPLE. "She has a uniform: It's simple, not overdone." Nor is Paltrow a slave to trends. "She goes, 'I'm happy – and that matters more,'" adds Saltzman. "That's what sets her apart from the rest."

In a year that included breathtaking gowns, denim in every color, towering heels, and fashion faux pas, PEOPLE turned to tastemakers, trendsetters, fashion bloggers, editors, and the magazine's 42 million readers to tell us who earned the title of best dressed – and who missed the mark. Whether they follow the rules or completely rewrite them, these stars prove that the most important must-have for a celebrity style setter is confidence. PEOPLE's 10 Best Dressed Women of 2012 are:

1. Gwyneth Paltrow – World's Best Dressed Woman (chosen by the editors of PEOPLE)
2. Diane Kruger - Best High Fashion Style (chosen by Pamela Edwards Christiani, PEOPLE style & beauty editor)
3. Princess Kate – Best Classic Style (chosen by designer Janie Bryant)
4. Emma Stone – Best Red Carpet Style (chosen by Giuliana Rancic)
5. Jessica Alba – Best Jeans Style (chosen by Lauren Conrad)
6. Rihanna – Best Risk-Taking Style (chosen by Man Repeller blogger Leandra Medine)
7. Jennifer Lawrence – Best Under 25 Style (chosen by College Fashion editor Zephyr Basine)
8. Reese Witherspoon – Best Pregnancy Style (chosen by Camila McConaughey)
9. Miranda Kerr – Best Street Style (chosen by Who What Wear editors Hillary Kerr and Katherine Power)
10. The Kardashians – Best Trend-Setting Style (chosen by Simon Doonan)

"Best Dressed Men" honors go to seven dapper guys well suited to style: Andrew Garfield; Brad Pitt; Robert Pattinson; Jay-Z; Chris andLiam Hemsworth; and Colin Firth.


For more fashion highs and lows, check out PEOPLE's Best & Worst Dressed 2012 issue, on newsstands Friday, Sept.14 and visit PEOPLE.com for more original galleries and highlights from this special double issue.

*Also In This Week's 'People'*
Macaulay Culkin's Sad Saga: "He Likes To Live As He Did As A Child"
Fox News Anchor Megyn Kelly: "She's Got The Whole Superwoman Thing Down"
Exclusive: Olympian Michelle Kwan Is Engaged!
Demi Lovato: "I Always Watch CNN. I'm Kind Of A Nerd Like That"