'All-Star Celebrity Apprentice': You Can Come Out Now, Omarosa's Gone!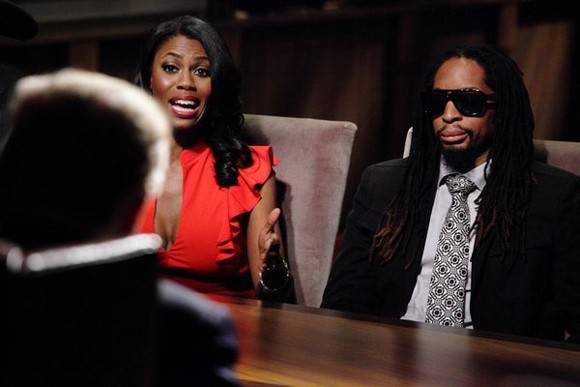 Gonna spoil this one right off the top, because I'm absolutely delighted that this is the last week I have to talk about Oma – the witch is dead! Couldn't believe it myself. Perhaps the networks are beginning to understand that loud, cruel, desperate wanna-be celebs are no longer in fashion.
Last week, Omarosa targeted Claudia Jordan, bullied her into taking on the role of project manager, and effectively sabotaged Claudia's game by under participating.  But Claudia, afraid that Trump would play favorites and keep Omarosa in the game, wound up being the fired celebrity.
In the suite, Omarosa wondered why she was being targeted, week after week, by the others, and came to the conclusion that everyone was intimidated by her superior skills. Dennis Rodman, who's been brought into the boardroom after every challenge, cannot understand why Oma's striking such fear into everyone's heart. He interviews that he's got his own bag of tricks, if it comes down to a fight between he and Omarosa.
Trump convenes the celebs in front of Trump International Tower, where he indicates an enormous globe, a piece of art that he commissioned to become an icon of the city. He then tells them about art; a painting is 2D, while statues, sculptures and the like are 3D. He wants the two teams to create and sell 3D art. Each team will create a gallery event, open to the public, where they will market and sell their artwork. The team who raises the most money will be the winner, and keep all proceeds from both teams for their own charity.
Team Power are down a player, so to even things up, Trace Adkins is assigned to them. Trace does not appear at all happy at the trade. "I don't like you very much right now," said Trace.  "That's okay, a lot of people don't like me," Trump replied.
Power will have Lil Jon as their project manager. Gary Busey, on Plan B, refuses the job, so it falls to Lisa Rinna to manage their project. Piers Morgan and Eric Trump will oversee both teams' work.
We only have an hour of Celebrity Apprentice this Easter weekend, and everything seems a little rushed. The teams head for an art store, where they grab paint and supplies. Trace is still unhappy with the swap; after all, he picked the people in Power, and they've dominated the game. When a salesperson at the store asks if he needs help, Trace says, "Yes. Shoot me." But – it is what it is. He grabs a couple of premade art supply kits, and declares himself ready to go.
Lisa's plan is to divide their time and work evenly between preparing art, and calling potential donors. The goal is to make the most money, not the best art. She's concerned about running a fund raising challenge, as she's unsure of how much she can personally bring in.
Penn Jillette reiterates that each player will create 3 works of art, for a total of 15 saleable pieces. They need 15 donors who will donate as much as possible for each one. Stephen Baldwin raises his hand like a little kid, and asks Penn to clarify – he's saying that the art doesn't matter? Penn agrees; he doesn't think anyone on the team has the talent to make a work of art. Stephen disagrees. To him, the art does matter as he will have an art dealer represent the art to sell it to clients. Everyone says, "Ok," and then carries on with their phone calls.
The littlest Baldwin explains that he intends to call a dealer, and using the celebrity factor, hopefully convince the dealer to bring in patrons who will pay $20K or $30K per art piece, as a unique, one of a kind collector's item.
Barely containing laughter, Marilu Henner interviews, "Stephen was so full of s--- I couldn't believe it. What play was he doing? Who was he really talking to? We knew that Stephen probably wasn't going to bring in anything."
Lisa feels that she can really only count on herself, Marilu and Penn for donations; Stephen and Gary Busey will be useless. And since Trace, who has big donors on his side, is now on the other team, she's under great pressure to produce.
Lisa also has to contend with Busey, who's pounding away on his clay like a two year old, while pondering such grand ideas as "Art is only the search. It is not the final form." As he puts together his masterpiece, "Lightning Strikes Mr. Hangbrain," Gary begins to sing a little song about art and searching and form … you get the picture. Stephen looks on in disgust when Lisa shakes her booty to Gary's song.
Gary censors himself, saying he'll try to keep quiet, but Penn sees it differently; what Gary was doing was real art. He's impressed with how Gary has thrown himself into his sculpture's creation.