'All-Star Celebrity Apprentice': Trump Hires Trace Adkins As This Year's All-Star!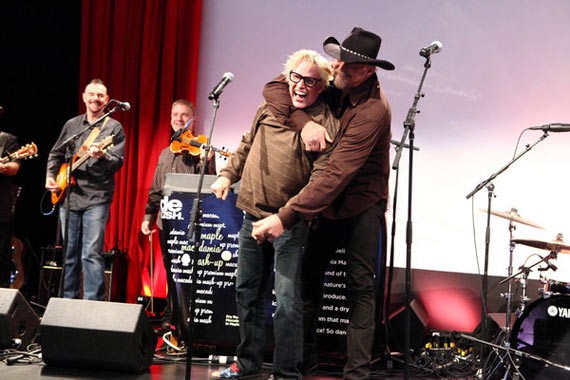 Trace is nervous when it seems like everyone's there for Penn. But he soon starts receiving large checks as well, from The Oak Ridge Boys, Wrangler Jeans, NASCAR, Billy Ray Cyrus, Wynona Judd, and The Academy of Country Music. 
Wayne Newton arrives, to Penn's relief. And he's even more relieved to tell Lisa that they're "north of 5," which I take to mean they've pulled in over $500,000. Trace is sweating; with ten minutes left, their biggest donor, Tim Tebow, has yet to arrive. Marilu hyperventilates as Trace tells her he can't wait any longer for Tebow.
Trump interrupts AGAIN to introduce the remaining celebs; Marilu Henner, Lisa Rinna, La Toya Jackson, Dennis Rodman (in a particularly stunning blonde Mohawk, and purple eye shadow,) Gary Busey and Lil Jon. Trump compliments Dennis' hairstyle. Dennis says that North Korea's Kim Jong-un was a good guy to him. Trump seems of the opinion that Dennis' relationship with the dictator is good as long as it's enhanced Dennis' reputation.
He then turns his attention to Lil Jon, asking him why he's not one of the finalists. Lil Jon reminds Trump that he fired him; it was his decision. Lisa says that she was lucky to have worked with first Trace, and then Penn.
Back to the presentation; is your head spinning yet? With seconds to go, Tim Tebow arrives with the $200,000.  Grumpy Cat – oh sorry, that's Donald Trump! – arrives with Ivanka, so let the games begin! He, Ivanka, Miss USA and the other guests sample the two flavors on offer. Everyone seems to love both.
Team Penn's presentation begins with the Jubilee Vegas showgirls flanking Penn. He describes the ingredients in the Magic Swurtle ice cream before thanking the Vegas celebrities who are in attendance; Taylor Hicks, George Wallace, The Blue Man Group, Dee Snider, Gilbert Gottfried, and Mr. Las Vegas – Wayne Newton. He then brings Teller on stage, and they perform a magic trick before presenting their video. The audience, including Trump and Gary Busey, watch like little kids at a magic show.
When Penn then shows the "out take" of Dennis Rodman, under the table, helping with the trick, Trace is nervous. He thinks that Penn must have won the video part of their task, and is hoping Busey is bringing his A game to their live presentation.  
Trace takes the stage, which is set up for a live musical performance, and invites Team Trace (Marilu, Lil Jon and Gary Busey) to stand beside him, before he plays his 60 second video. The audience smiles at Busey's dance. Trace then takes to the stage to perform his hit, "Honky Tonk Badonkadonk." Wynona Judd sings along, as does Penn and his team.
He then brings up Gary to reprise his role as Buddy Holly on the stage. Gary puts on the square glasses, and sings "Not Fade Away." Well, it's more an interpretation of the song than actual singing, but that's our Busey!
Back to the live show, where Ivanka introduces the next clip, of the finalist teams entering the Board Room.
Trump begins by saying that both teams raised a lot of money, but it's not just about the money; they're being judged on the whole task. He compliments Gary on his contribution to Trace's presentation. Marilu says it was a pleasure having Trace back to his reinvigorated self.
La Toya, Dennis and Lisa praise Penn's work. When Trump asks Penn how he's liked this season, over the last time he played, Penn says he really enjoyed the show and his fellow celebrities. Trump says that the show and he should be given Emmys but doesn't expect that to ever happen.
Ivanka tells Team Penn that the Walgreen execs loved both the ice cream flavor and the name that they came up with. La Toya beams, as it was her idea. They also enjoyed the video, brand integration, and the use of magic. Penn's presentation was praised as on point and very clear.  The only negative they could find was that they weren't impressed with the product's packaging.
Joan says that Gary singing was the highlight of Trace's presentation, and that they loved part of his ice cream's name, "Mash Up," as they hoped to appeal to a younger demographic. But they thought that the "Maple" was too specific.
Ivanka announces that Team Penn raised $503,655. Before we can hear what Team Trace brought in, we cut back to the Donald in New York City, telling us that the Apprentice has raised $13 million to date for charity. He also says that Walgreen's has decided to add another $100,000.00 to the winning team's total.
We go back now to the Board Room. Joan Rivers announces that Team Trace raised $564,000. Trump notes that that's a tremendous amount of money, and wonders who on the show hasn't raised any money for their charity. Busey puts up his hand, and Trump says he'll give him $20,000. He'll also give $20K to Lil Jon, La Toya and Dennis for their own charities. He praises all of the celebs for their hard work. He then says goodbye to them all. Everyone but Trace and Penn leaves the Board Room.
Back at the live show, Trump brings Penn and Trace onto the stage, and to the simulated Board Room desk where he, Ivanka and Joan await. Looks like Trace has the longer ponytail. Trace and Penn praise each other's efforts, and say that they had a great time during the season.