'All-Star Celebrity Apprentice': Trump Hires Trace Adkins As This Year's All-Star!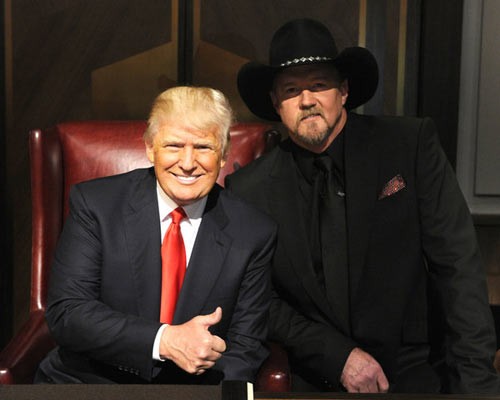 It's been a long time coming. All Star Celebrity Apprentice began 12 weeks ago, when 14 celebrities gathered to show off their entrepreneurial skills. This week, the race is down to the two finalists, Penn Jillette and Trace Adkins, battling to the end for the title, and for their charities.
As Penn tells Trace backstage, "One of us will win. But not by much."
Live, from New York City, Donald Trump pronounces it the battle of Nashville vs. Las Vegas. A montage of past moments is shown, culminating with a continuation of last week's challenge. The finalists were tasked with creating a new flavor of Delish brand premium ice cream that will be sold in all of the Walgreens outlets, nationwide. In addition, they will have to design packaging, produce a promotional video, and raise money for a launch event featuring the new flavors.
They will be judged based on their ice cream's flavor, brand messaging and creativity of both the video and the product packaging, overall presentation, and additional money raised through ticket sales to the launch. The winner will receive 250 thousand dollars for their charity.
Penn was happy to be reunited with Lisa Rinna, and to work with La Toya Jackson, and Dennis Rodman. Trace welcomed Lil Jon, Gary Busey, and Marilu Henner. Penn's flavor, "Magic Swurtle," features tiny chocolate turtles, and his video stars Penn and Teller performing a magic trick with the help of Dennis Rodman. Trace hopes that his video that has Gary Busey doing the Busey dance for "Maple Macadamia Mash Up" will go viral. Trace is very happy with his video.
Penn, on the other hand, has a dilemma – their video is running long, and will need to be cut to stay within the one minute range specified. He decides that they will cut out a section that shows Dennis Rodman in on the trick, but save the footage, so that it can be shown as a sort of "punch line" at the live presentation to the judges.
The audience at home and in the studio, having been shown this clip of Penn solving his video problem, is now brought back to Trump live, flanked by Joan Rivers, and daughter Ivanka Trump. After introducing Joan and Ivanka, he welcomes sons Eric and Don Junior, who are seated in the audience, and hypes the later appearance of the fired celebrities. And then we're back into the task.
(This chopping up of the clips continues throughout the show. I would rather have seen the continuation of last week's task at the beginning of the episode, flowing naturally into the live presentation, and then into a "wrap up" of the series with the celebrities brought back. I found it hard to concentrate on the action through all of the interruptions.)
Team Penn are being driven to their presentation space. Penn tells them that they've got Debbie Harry, the Blue Man Group, Taylor Hicks and Wayne Newton as special guests, so he's happy. Lisa adds that their Vegas Showgirls are the 'kicker' – who can resist? She's concentrating on their guest list; they have to sell 50 tickets. There's a lot of big money coming in. Penn wants to win as much as he can for his charity, Opportunity Village.
Team Trace is a little more subdued. Trace is delighted to get a definite "Yes" from Tim Tebow, who has agreed to appear, and to bring $200,000.00 to the event. Trace believes Tebow's relationship with Jesus trumps Penn's relationship with showbiz. I guess we'll see.
Back to Trump, who now brings out the first group of fired celebs. Enter Dee Snider, Stephen Baldwin, Claudia Jordan, Omarosa and Brande Roderick. Trump asks Omarosa why she's so confrontational, and she coyly tells him that she learned it from him, reminding him of their ten year history. The Donald also asks Stephen if he really believed all of the nasty things he said about Trump after being fired. The littlest Baldwin, so rarely hired, assures Trump that all is forgiven. Dee says that he's creative, but it takes him longer to do tasks than the timeframe of the show allows. Claudia says that she's "absolutely not" friends with Omarosa. Brande says that the dynamic of the show was not harmonious, which is why she didn't do as well as the first time she played.
Rather than go back to the episode, we now see Penn with Teller, sitting in the audience. Teller's head appears to be encased in a square block. A bespectacled woman from the audience is asked to participate in a magic trick. Penn does some sleight of hand with a billiard ball and a wand, and then uses a hammer to smash Teller's block, revealing that Teller is now wearing the woman's glasses.
Now, back to the final task. Trace and Penn let their guests in for the "Ice Cream Social." Lisa, in charge of the money table, is grateful for the checks from Taylor Hicks, Gilbert Gottfried, Dee Snider, The Blue Man Group and the like. People begin arriving with large novelty checks, including one for $200,000