'All-Star Celebrity Apprentice': Stephen Is No Alec Baldwin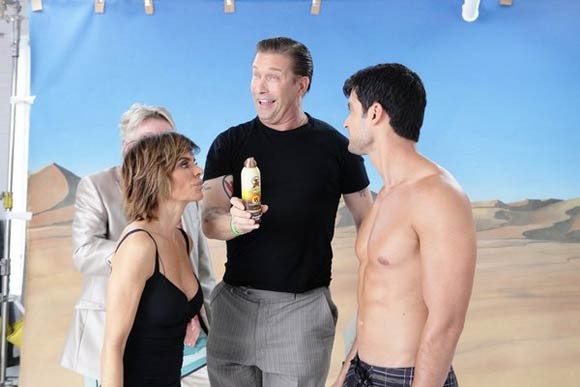 Last week, the celebrities vied to create the best advertorial possible for Melania Trump's new line of skin care. Team Power's presentation contained a fatal error – the misspelling of Melania's name. So Plan B's Penn Jillette took the win, and the $40K for his charity, Opportunity Village, while Dennis Rodman brought back Trace Adkins to the Board Room. In the end, the responsibility fell on project manager Dennis' shoulders, and he was fired.
In the Victory Suite, the celebs argue over who should take the blame. Misspelling Melania's name was the offense, which Dennis signed off on, but Trace made the error. They are delighted when Trace walks in to join them; Trace is a powerhouse in the game, an asset to either team.
Penn visits his charitable organization, to deliver his win. He's grateful to be able to help.
But we must push on, to the next challenge! Donald Trump summons them to a rooftop overlooking the Hudson River. He tells him that some great movies have been made in Manhattan – and their task is to make one as well. They will make a movie promoting Australian Gold, a suncare product line. Reps Eric and Katie (Stam, Miss America) explain what they will be looking for; a 45 to 60 second silent film that embodies the Australian Gold brand personality. They will be judged on brand messaging, product integration and creativity. Don Jr. and Ivanka Trump will be the teams' advisors.
But the teams are still lopsided, so Trump allows Trace to pick another person to join Team Power. Trace picks Penn, but Trump asks Lil Jon who he'd like, and he says Marilu Henner. So Trump assigns Marilu to Power. Trace believes this is because he and Penn are contenders for being the Final Two.
When Trump asks Marilu why she's playing so much better this season, she says that people have finally realized that when she acts like a know-it-all, she really is a know-it-all. (I can relate!)
Gary Busey will lead Plan B, and Trace reluctantly takes the job for team Power. The prize will be $20K from Trump, and an additional $20K from Australian Gold, for the project manager's charity. Now, off you go!
Lisa Rinna wonders how things will go with Busey as leader; she thinks it will be puppy dogs, rainbows, and Mr. Hangbrain. Gary wants to go with a 1920's look. Stephen Baldwin proposes a modern look, with 20's style overacting. Lisa reminds them that the 20's bathing suits covered the entire body. Gary rejects the idea of using contemporary styles, as he feels that would be a conflict of interest. Lisa realizes that they'll need to help Gary focus, if they are to win.
On team Power, Brande proposes that they go with a history of Australian Gold, and how it was created. Lil Jon reminds them that they need to include the koala logo, and Marilu thinks they should emphasize an all-family friendly convenience.
Trace outlines a scenario; a caveman who is unhappy because he's got a constant sunburn. Then a segue to the 1920's and a one piece cover-up, followed by a chance from black and white to color, and modern day swimwear.
When the Australian Gold reps arrive at Plan B's headquarters, they confirm that Sydney the Koala Bear is important to their brand.  Gary agrees that Australia is all about fun in the sun, but he can't picture koalas on the beach. When asked which product is most popular of the line, Katie says that the bronzer sells the most, because "Australian Gold brings color to an otherwise black and white world."
It's much the same at team Power's HQ. Since Lil Jon has worked on the product before, he says he remembers that the emphasis was on the fragrance and the feel of the lotion. Katie says that their products are for people who love the sun and being outdoors. Marilu is impressed with the way Lil Jon eases the reps into explaining the merits of the products.