'All-Star Celebrity Apprentice': Should Have Gone With The Ferris Wheel, Claudia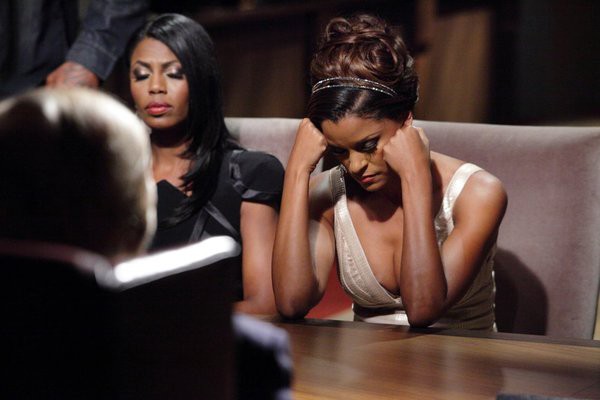 Last week, LaToya Jackson learned the hard way that trying to outwit Omarosa and Donald Trump by avoiding Board Room confrontation was her fast track to being fired. Omarosa gloated over her rival's termination, and plotted revenge against Claudia Jordan. Gary Busey was again called out by his team for being a distraction, and the weakest member of Plan B. A little bit of power went to Stephen Baldwin's head, and he was able to give his win of $50k to his mother's charity, The Carol Baldwin Breast Cancer Foundation. Carol Baldwin threatened the 'very sexy' Donald Trump with a good time. "I think he's so sexy. Ahhhhhhh, if I were younger — and let me tell you I was very thin and I had a great figure — I would give his wife a run for her money."
How can you top an opening like that? Lil Jon knows, the minute he sees the red cowboy boots that can only mean one thing … tiny beauty mogul Farouk Shami is back! And he's brought his son, the president of Farouk Systems, Basim Shami with him.
The Trumpster is thrilled to describe this week's assignment; the teams will be creating interactive marketing campaigns using glass trucks to promote Farouk Systems. This week's advisors are Donald Junior, and Arsenio Hall.
Farouk explains that each team will have a product to promote, either Chi or BioSilk. Basim stammers that the teams will present an interactive and social marketing event to the public in the Flat Iron district. The events will be judged on creativity, brand messaging, and the overall experience. The winning team will get $20k from the Donald, while Farouk Systems will add $30k, and an additional $1.00 for every Facebook 'like.'
Choosing the project managers is easy for Team Power, as Omarosa essentially bullies Claudia into taking the job. Could it be that Omarosa's revenge is already being put into place? But on Plan B, confusion reigns … no one has a clue as to what Farouk Systems is. Marilu Henner decides she'll take on the position.
Claudia's team discovers that they will be promoting Chi, a product that Claudia says she uses every day. Farouk and Basim arrive, hugging and kissing the celebrities. Lil Jon thinks they might have a little advantage, as his team won the last time Farouk Systems sponsored a challenge. Farouk tosses a hair dryer to the ground, and says that his brand message is simple; beautiful, and American. He's open to what marketing plan the celebs want to go with.
Claudia has friends in the modeling business, so she's thinking they should bring in beautiful girls, with great hair. Dennis Rodman thinks they should have homeless women on a Ferris wheel. Or drag queens! Or dogs! Dennis concedes that Claudia might have the better idea. Omarosa basically lays back, contributing nothing, and zings that Claudia is a follower, not a leader.
During an impromptu rap brainstorming session, Lil Jon comes up with a concept … the traditional Uncle Sam recruiting poster, but featuring "Chi Wants You" as the slogan, and Lil Jon as the Uncle. Done, and done!
Over at Plan B headquarters, Marilu is enthusiastic about the task and the Biosilk product. She puts the littlest Baldwin in charge of Marketing; Penn Jillette's the guy for 'big ideas'; Lisa Rinna will head up design; Trace Adkins is the construction guy. And Gary … are you kidding? She assigns Gary to be the team accountant.
Farouk arrives and tells them that God created silk as the best material for hair care, and that's the secret ingredient in Biosilk. He then sprinkles a white powder over Marilu's head, which Basim explains will give volume to her hair. She looks less than enthusiastic.