'All-Star Celebrity Apprentice' Recap: He Who Misspells Melania Gets Fired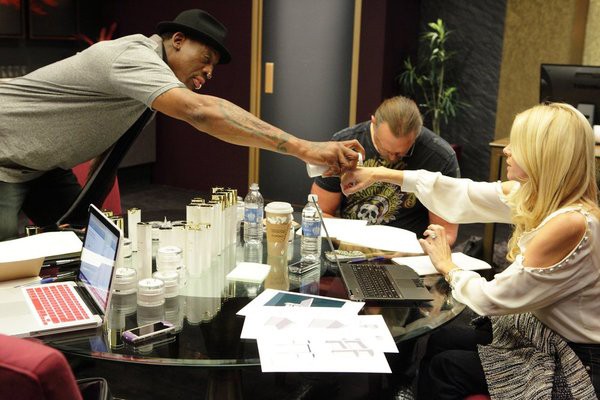 Last week, Lisa Rinna took Plan B to the win, despite team Power's best efforts, and won over $400 K for her charity, St. Jude's Children's Hospital. Lil Jon brought back Dennis Rodman and Omarosa to the Board Room, and Omarosa was finally fired from the competition.
None of the celebrities were sorry to see her go. They were all relieved and joyous. Brande Roderick is especially pleased, as she felt that Omarosa brought the team down in every challenge. "The bad seed is gone, so now we can blossom."
This week, the celebs are summoned to Trump Tower, where the Donald introduces them to current wife, Melania. She tells them she's about to launch Melania Caviar Complexe C6. Vice President of marketing, Angie Provost, tells them the teams will need to capture the essence of the product line by creating a two page advertorial and product display. They will be judged based on creativity, and overall presentation. The winning team will be awarded $40K for their charity. Eric and Ivanka Trump will be the advisors on this project.
Plan B promises Penn Jillette they'll have his back. Power chooses Dennis as their project manager, because, as Trace Adkins drawled, "he's got the most skin."  
NBA Hall of Famer Dennis interviews that he really didn't want the job. He'd rather keep it cool, and let everyone have opinions. Luckily, he's got Brande Roderick on his team, and she's got a few ideas on how to best show off the product line.
Melania arrives at Power's war room, and tells the team that she worked and researched the product for ten years. Dennis says he has a delicate question for her. He'd like to go to her house, into her bathroom, and see the products she really uses. Trace can't believe that Dennis asked Melania if he could go in to her bathroom.
Melania tells both teams that her target customer would be "a mother, a wife, a business woman." Marketing head Angie says that most of the products do more than one thing, so it's not just about moisturizing, it's a synergistic line.
Gary Busey is awestruck at Mrs. Trump's beauty. "Melania is Mrs. Trump. Her beauty lives 5,000 miles past Heaven. Have you ever had your genitalia so excited that it spins like a ferris wheel in a carnival ride? That's how beautiful she is." My goodness, that is just too much information.
On team Power, Brande and Lil Jon break down what will be necessary during the task, and conclude that their best approach will be to concentrate on a lush, golden hued presentation. Dennis thinks they need to use a James Bond approach, as every Bond movie has caviar. Brande feels like no one is in charge or knows what to do. Trace begs for just one task where they sell something he understands, like horse feed.
Dennis and Lil Jon head out to source props, looking for anything gold colored. Lil Jon feels like Dennis is just along for the ride. Back at their workspace, Dennis contributes very little. Brande and Trace create a concept. Trace feels they should keep it simple. Simplicity has power. "Simply Melania, Simply Luxury" will be their theme.
Penn's got a few worries over at Plan B. He's concerned about getting the right slogan, and how they will display Melania's creams. And that's before realizing that Gary's gleefully rubbing the lotion on any part of his body he can reach. Lisa has a grasp on the skin care line, and comes up with "Nourish your skin with Caviar" as a slogan. Penn loves it, and carries through the idea into presentation: they'll use a gold tray with a golden spoon, and a ton of real caviar.
Lisa and Marilu Henner dash off to source props, with Penn's words ringing in their ears, "We'll be maggoty with caviar; buy lots of it." Yumm!
Ivanka pops by to inspect Power's work, and notes that Dennis seems to have delegated the brand messaging to Trace. Lil Jon normally deals with graphic design, but Trace has stepped in to do that this task. Lil Jon is happy to not be dealing with the stress; one little mistake in graphics could be the reason you're going home. Dennis signs off on all of Trace's work.
Eric Trump is not welcomed with open arms at Plan B's warroom. In fact, Penn interrupts his team riffing on past ideas with Eric, to tell him that he's a disruptive force, and should leave. Stephen Baldwin thinks that Penn is behaving rudely. But as Penn says, "you've got a good bunch of sled dogs working really hard, and then someone brings in ten pounds of hamburger. That's what Eric Trump is."
Penn assures Eric that everyone on the team is pulling their weight. Everyone's a genius; everyone's doing the best work they've ever done. But Eric wonders if Penn's trying to keep the other's away from him for selfish reasons. "It was very interesting to see him come in with an ugly tone, interrupt a little bit, and say, listen everybody, get back to work. "
The morning of the presentation, both teams are happy with their work. What team Power does not notice, however, is that "Melania" is misspelled on one of their advertorial pages.
Plan B is first up, and Penn does a particularly bland and mundane job in presenting their work. He hopes that his directness and honest is as good as or better than sucking up to the Trumps. But when he refers to Mrs. Trump as the 'spokesperson,' everyone at the table gasps. (Oh spare me. Like Melania was up to her elbows in some chemistry lab for the last ten years personally developing the product.)  And he wins even less points when he tells Ivanka, Eric and Melania that they should have been over at the war room, where they were just maggoty with caviar.
As Penn is wrapping up their presentation, Gary suddenly jumps in with his thoughts on the product line, and as they all leave the room, he turns back to tell the gathered Trumps that "this is no longer a secret weapon. This is a secret miracle." Melania politely smiles, while Ivanka giggles.
Stephen Baldwin interviews that he was praying to the "Gary Angels" that they would tie his tongue. But to no avail, it seems. And if their team doesn't win, he'll blame Penn and Gary for the loss.
Time for the Power presentation. Dennis lets Brande do most of the presentation. As she flatters Melania and the product line, the Trump family is focusing on the misspelling of the product line name. No one in team Power notices the mistake at any point.  In fact, Lil Jon's pretty sure they had a strong presentation, and that their having been up second will have also helped them to leave a lasting impression.