'All-Star Celebrity Apprentice': Playmate Brande Roderick Goes Bust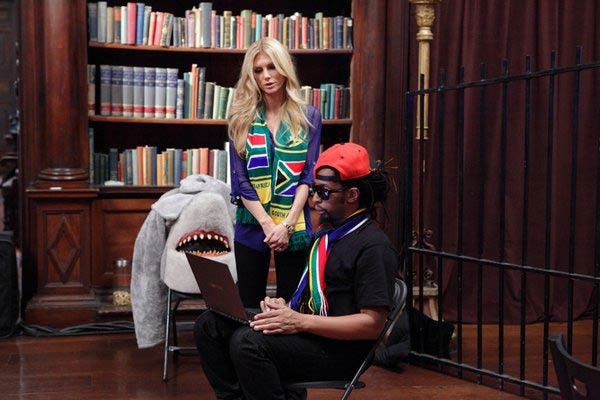 Last week, the teams were tasked with making a silent movie promoting Australian Gold. Gary Busey headed up Plan B, but team mate Stephen Baldwin took charge. Marilu Henner was switched to team Power, and helped them win the challenge. Trump fired Stephen, for failing to showcase the client's many products.
In the Celebration Suite, team Power toasted their success, and waited to find out if Gary had survived yet another Board Room. The consensus seemed to be that Gary, although creative and funny, was past his 'best before' date on the show, since his creativity outweighed his ability to do solid work.   Penn Jillette was surprised that Stephen, and not Gary, was fired, and worried that their little team of three was seriously outgunned by Power's team of four strong players.
Trace Adkins was delighted to visit the American Red Cross staging area for Sandy relief, to give a representative a check for $40,000.00, his winnings from the silent movie project.
This week, the celebs meet Donald Trump at Times Square, where he is accompanied by George Ross, and Bret Michaels, who's returned as an advisor, along with two representatives of South African Tourism. The teams will be completing a task involving the creation of an interactive South African travel expo, to encourage tourism. The product must showcase the "Big Five" South African experiences.
The task is further divided into two scenarios; the "Romance" package, and the "Adventure" package. A coin flip lands Plan B the "Romance" project, to Lil Jon's delight. The teams will present their expo to the reps the next day. They will be judged on creativity, feedback from other tourism professionals, and the overall presentation. The winning team will win $20K for their charity.  
Penn will be project manager of Plan B, while Brande Roderick will head up Power.
In the team Power War Room, Brande's thrilled to be representing an entire country. Marilu Henner reads the directive from the South African reps, which includes concepts like confronting a shark, zip lining, and golfing. They cannot focus on other aspects, such as the safari experience they had hoped to create.    
The reps arrive, and explain the concepts they want promoted. They want alternatives to peoples' visions of South Africa as being only about safaris and wild animals. They want to show the world that there are other things to do; surfing, golfing, zip lining. Glamping – glamorous camping – strikes Trace as a sissy idea. The team begins to think that this might not be such a win for their side; showing African adventure in a small room may be challenging.
Marilu can't figure out how they can really show these experiences in a small room. She wants them to focus on a big sign, a good handout, and a slogan. Lil Jon adds that he's been to Africa, and everyone drinks Roiboos tea … they should make sure all their guests get a cup. Trace worries that Brande's not in control; the ideas are scattered. He offers the slogan "You + South Africa = Adventure," and for lack of a better idea, the team decides to take it.
Marilu comes up with a plan for their handout, based on the South African logo. The team splits up the five experiences; Lil Jon will handle the shark experience; Marilu the zip lining; Brande, the camping; and Trace, the golf and surfing info. Trace immediately tries to locate two world famous South African golfers, Ernie Els and Trevor Immelman. Unfortunately, they are not available. He's going to have to settle for a little putting green they can set up on their stage.
Lil Jon is fixated on the idea of having someone dress up as a shark, who would taunt visitors inside an underwater cage. He half-jokingly tells Marilu that she could simulate a zip lining experience by putting people in a wheeled chair, which she could push quickly to the other side of the room. Sure, why not. Just strap 'em in a chair, stick a helmet on their hand, and take them for a ride, says Marilu. Trace rolls his eyes, thinking that they haven't got a hope. If they lose, it will be on the project manager's head for approving all of the crap they're coming up with.
Plan B, on the other hand, has their challenge in hand. Their "Big Five" include wine, art, food, dance, and spa. They need to blend all of these elements into their "Romance" presentation. Gary rushes to greet the reps when they arrive, telling them how he's had great times in South Africa, while making films. He also tells them that he's heard there are a lot of murders in Africa.  Penn is stunned at Gary's words, and the reps look totally taken aback.