'All-Star Celebrity Apprentice': LaToya Fails Snake Handling 101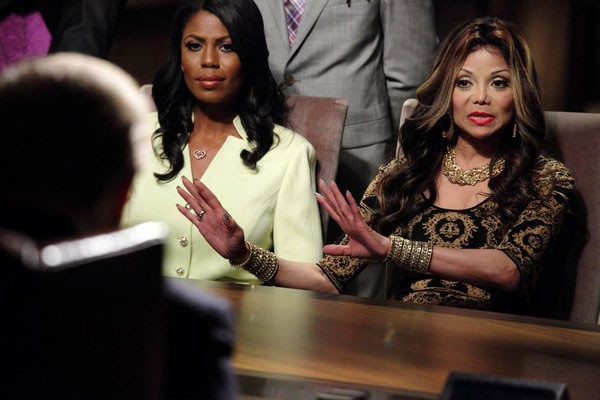 Last week, Dee Snider's team Plan B lost to Omarosa's team Power. Dee took the blame for his team's loss, and was fired. Omarosa appeared to break down in tears of joy at her win on behalf of deceased fiancé Michael Duncan Clarke's charity, but both teams were skeptical, thinking it more performance than emotion.
Marilu Henner smoothed over her tiff with Gary "I'm an angel in an earth suit" Busey, but vetoed his offer of a visit to Texas to ride a horse backwards.
At the Paley Center for Media, Donald Trump outlined the celebs next task. They will be working with representatives Adam and Tiffany from Crystal Light, to promote a new product, "Crystal Light Liquid". They will write, direct and perform a five minute soap opera scene that dramatizes how the new product works, in front of a live audience. (Hint: you add the liquid to water, as little or as much as you want at a time.) They will be judged on audience reaction, creativity, execution and brand messaging. Plan B will have legendary actress Susan Lucci to work with, while Power has actor Jack Wagner on their side.    
This week's advisors will be Ivanka Trump, and past winner Arsenio Hall. LaToya Jackson and Stephen Baldwin will be Project Managers. The winning team will receive $20,000 from Trump, and $30,000 from Crystal Light, for a donation total of $50,000. 
Stephen Baldwin decides that his strategy as PM is to be far more dominant. This apparently means treating everyone on his team as though they were idiots. He talks down – and slowly – to them, while letting them know that he is to be in charge of every detail, including any interaction with the Crystal Light execs or their advisor. He interviews that he plans to be a "Gordon Gekko, ruthless, psycho, all rolled into one." Well, he got the 'psycho' part down.  As Penn Jillette notes, "He does seem to think that everyone around him is breathtakingly stupid."
Tiffany from Crystal Light outlines what they need to communicate in their presentation; it must be on brand, and introducing the product in a way that makes people want to try it.  The littlest Baldwin informs them that he's worked in Marketing before, which I am sure greatly reassures the execs.
Penn has an idea for their script; if they equate romance with drama, and drama with Crystal Light, maybe they could show variations of drama based on how little or how much of the liquid is used in a glass of water. So, a little drop would be low drama, while a big squeeze of liquid would be high drama.
Of course, that means there's gonna be some romance in their scene. Trace Adkins immediately calls dibs on making out with Susan Lucci, "that sweet, classy lady."  The team is enthusiastic about the concept. Well, everyone but Stephen Baldwin, who's simultaneously jealous at Penn's good idea, while already planning to make Penn the scapegoat, should their team lose.
Trace is head over heels when Susan Lucci arrives for rehearsal, but is upstaged when Arsenio arrives, drops to his knees and kisses Ms Lucci's tiny hand. When Penn outlines their plans, Arsenio feels they have things under control, and look like a happy team. 
Meanwhile, Power's LaToya begins to outline duties for her team. Lil Jon will be the Director, of course, and Omarosa will be Stage Manager. Say what? Round One of the Match begins. Omarosa wants to be in the scene – she's done tons of soaps, and even been on the cover of Soap Opera Digest, for your information! And besides, doesn't LaToya know that they should come up with a script before she starts casting? 
But it's not really about who's doing what in the project; it's about Omarosa establishing – loudly, continuously, and over whatever anyone else has to say – that she is going to be in charge, no matter who tries to be PM. Most of what Omarosa has to say is intended to put LaToya in her place, and to make sure that no one else's ideas are heard.
LaToya has no intention of being railroaded. She interviews, "You may think because I'm soft spoken that you can take advantage of me. It's not gonna happen. Not this time."   And it is plain from the way she is staring down Omarosa, that this project is gonna be a rocky ride.
The rest of the Power team feels the tension in the air. Brande Roderick is especially nervous, and skeptical as to the worth of Omarosa's idea of scripting a parody of the "Real Housewives" franchise. Lil Jon comes up with a riff on soap opera clichés, and the script begins to take shape. 
LaToya assigns Dennis Rodman and Claudia Jordan to shop for props and costumes. Omarosa says she wants to go with them, but LaToya says she's needed to stay back and write the script. Omarosa wants to know why they need her, when they already have the concept. LaToya tells Omarosa that she wants Omarosa to stay, as this is a team play. Omarosa mocks LaToya's tone of voice, and starts singing "Beat It." LaToya tells the other team members that she won't have anyone running over her. Omarosa talks over LaToya's words, until LaToya snaps and asks her to "please be quiet."